This post may contain affiliate links.
Two weeks, two children, and the two parenting lessons I learned.
We're back in the delivery room. I'm here on a monobloc chair with my ebook reader. Lalaine is on the bed about three feet away playing with her phone. She seems cozy in spite of the attachments she has on her tummy.
It was the same scene as yesterday. Except today is THE day.
We're now four hours in labor. Cervix at seven centimeters, with contractions every three minutes. It's 1:45 in the afternoon and we both haven't eaten. Baby's ETA is in two hours. I could sneak out to grab lunch for a few minutes, yet I stayed because I fear I might miss out. There will be no replay after this.
It's okay, I'm not hungry anyway. I have reserves. Good thing we have a considerate daughter. She didn't come out last night so we can feast on the Noche Buena.
THE BABY HAS ARRIVED
The atmosphere here is pleasant. It's far from what movies portray. Everyone's calm and relaxed. I don't hear screams. What I hear are stories, jokes, and waves of laughter. Thanks to the epidural anesthesia, Lalaine can still laugh with us.
Not for long.
2:25 pm. We're now at nine cm with contractions every minute. The pain distorted the smile on my wife's face as it reaches its peak. Doctors and nurses started to move into their positions. The baby has landed, and she's ready to check out.
"Daddy, please stay here until we call you in," the nurse told me.
"Okay," I replied.
In a flash, they were all gone from my sight. They transferred to a bright room opposite from where I sit.
This is already my second time. Still, I felt jittery when they called me in.
I saw Lalaine at the center of the room, face grimaced as she pushes the baby out. I took the front row seat on her right and marveled at the superpowers God gave moms during childbirth.
After five hours of labor and a total of seven pushes, our baby girl breathes air for the first time. A nurse handed me a pair of scissors and gave me the honor to cut the umbilical cord.
Welcome to the world, Jrue Lagertha.
2:45 pm is the official time, and she looks just like her Ahia (Big brother) when she comes out.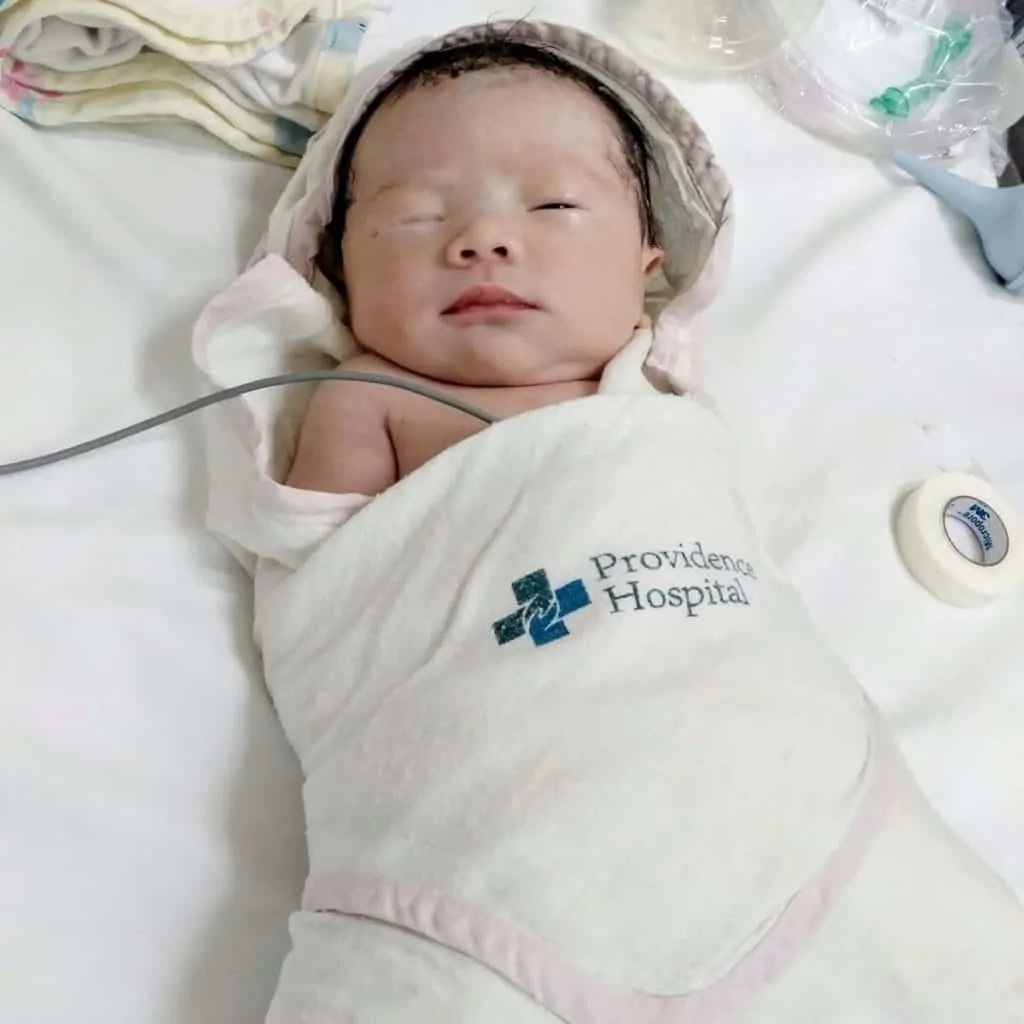 PARENTING LESSON 1: IT'S TRUE, TIME FLIES
My emotions seem to be out of whack these days. Two weeks after this little cuddle bug came out, when reality started to kick in. A gush of sentimental feeling drowned my veins when I saw her all curled up and sound asleep beside her brother.
It's 1:15 in the morning and this question has kept me awake: Where did all the time go?
It was like last year when basketball was the only thing I cared about. Then I finished college, went to work, got married, had our first child, and now the second. Two decades went by in a snap.
Did my daughter bring the time stone? Everything seems to be in fast-forward since she arrived. As I shifted my focus from her to Joab, it hit me: My son isn't a baby anymore!
I fired up Google Photos and reminisced on how this pumpkin grew up so fast. Is this kid the baby in the picture? Oh, how I miss those toothless smiles…
BE INVOLVED
Everyone whoever told you that time flies, and you didn't believe them… you should have…

Andrew Linder, allprodad.com
One day our children will start to go to school, have friends, and do their own thing.
We can only watch how reality unfolds.
So while I can, the best thing I can do today is to involve myself in their lives. — No matter how difficult or messy it may sound.
Who knows, maybe one day the very things I'll miss are their tantrums and smelly diapers.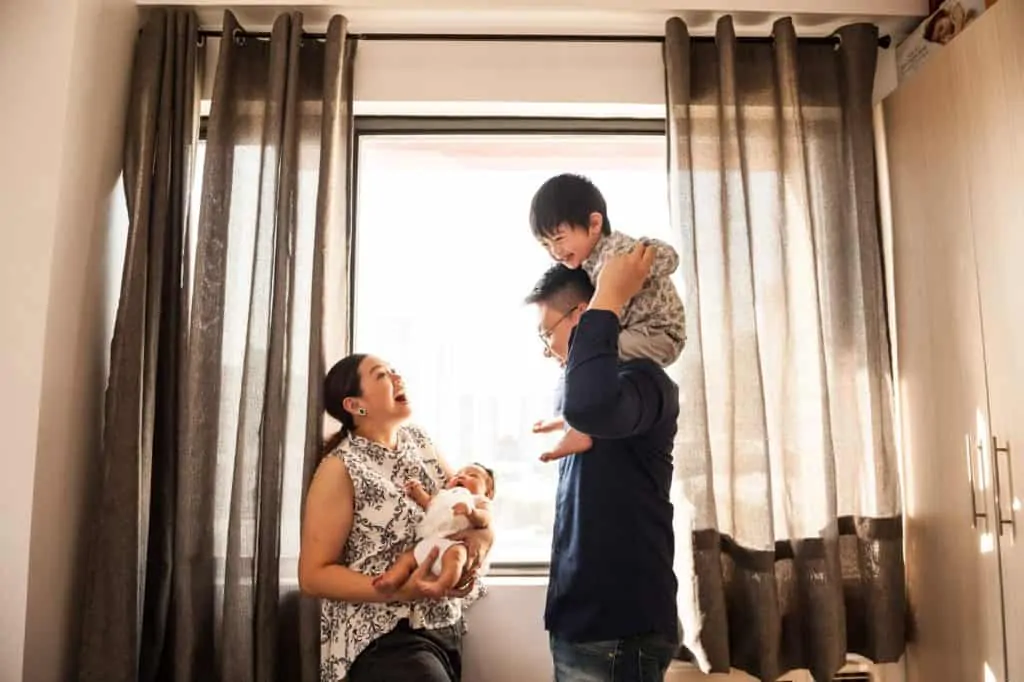 PARENTING LESSON 2: ANXIETY IS REAL
Not sure what time I dozed off. The next thing I know the sun is up. I reached for my phone to check the time, it's 7:29.
I got up, grabbed my bag, and attacked the day.
Well, that's a lie.
What actually happened was I went back to sleep and woke up two hours later.
My eyes are heavy, the body is lazy, and my brain is all over the place. If only I can hide under this blanket and be invisible for a day.
Fatherhood seems to take its toll on me.
Not because my kids are rowdy or anything. But because I cower at the sight of the future. Twice the kid, twice the pressure.
Will I be a good dad? Can I provide for their needs? Will I see them get married and have kids?
I became a dad less than three years ago, yet my mind is already ten to thirty years ahead. It's a habit I need to break.
DO NOT WORRY
Anxiety has been my biggest enemy ever since I became a family man. It starts with a seed planted in my head, then sprouts like a weed that cripples my joy and hope.
My bout with anxiety continues up to this day and I wish to end our epic battle.
I flipped through my electronic Bible and filtered verses about "worry" and "anxiety."
After I read eighteen verses about this topic, here is God's biggest advice on worry: "DO NOT WORRY."
Don't believe me?
Here are some verses:
…do not be anxious about anything, but in everything by prayer and supplication with thanksgiving let your requests be made known to God.

Philippians 4:6 ESV
Therefore I tell you, do not be anxious about your life, what you will eat or what you will drink, nor about your body, what you will put on. Is not life more than food, and the body more than clothing?

Matthew 6:25 ESV
Therefore do not be anxious about tomorrow, for tomorrow will be anxious for itself. Sufficient for the day is its own trouble.

Matthew 6:34 ESV
Fear not, for I am with you; be not dismayed, for I am your God; I will strengthen you, I will help you, I will uphold you with my righteous right hand.

Isaiah 41:10 ESV
Let not your hearts be troubled. Believe in God; believe also in me.

John 14:1 ESV
This one comforted me the most.
Have I not commanded you? Be strong and courageous. Do not be frightened, and do not be dismayed, for the Lord your God is with you wherever you go."

Joshua 1:9 ESV
Not long ago the doctor said we have an 80% chance to lose the baby and 10% she'd be born special due to mega yolk-sac. To say I was anxious is an understatement.
I fought anxiety with a jab of self-encouragement. A left hook of preparing for the worst. And an uppercut of seeking counsel. I bet I gave this monster a good bruise, but now it's back with a vengeance.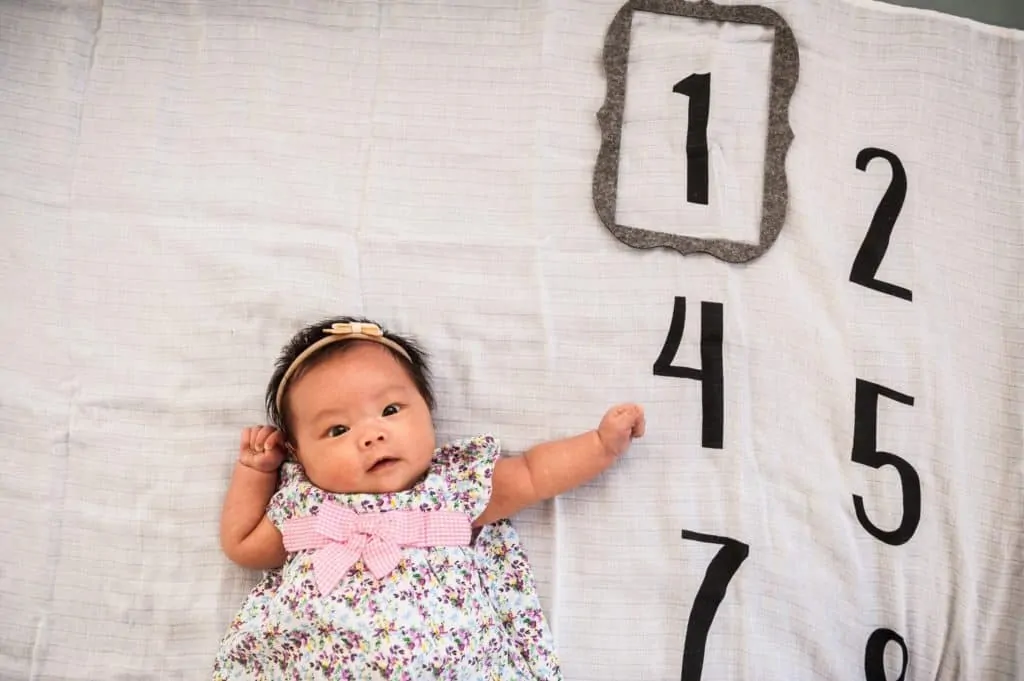 STAY AWAY
God's "Do Not Worry" advice sounds underwhelming to me at first. Couldn't He give better words of encouragement? But after I meditated on it a bit longer, I realized He's right. The best way to beat anxiety is to NOT get on the ring with it in the first place. 
It's the same with cigarettes, alcohol, porn, gambling and such. Stay away. Don't fight.
And if ever you're already in a brawl with those bastards, here's the winning strategy: STOP. 
Just stop, turn around, and walk away. 
Simple words but impossible to do, I thought.
Yet as I type this with my right hand, and hold our baby girl with my left, I was reminded — nothing is impossible with God.
EAR PIT AND DEFORMITY
Jrue was born on December 25, 2019. We recently celebrated her first month over a boodle fight. She came out at 2.6 kilograms with a length of 50 centimeters and got a good Apgar Score of 9 and 9. 
Thanks for the prayers; everything went well, except for her left ear. We observed a small hole at the side and a gap on the lobe.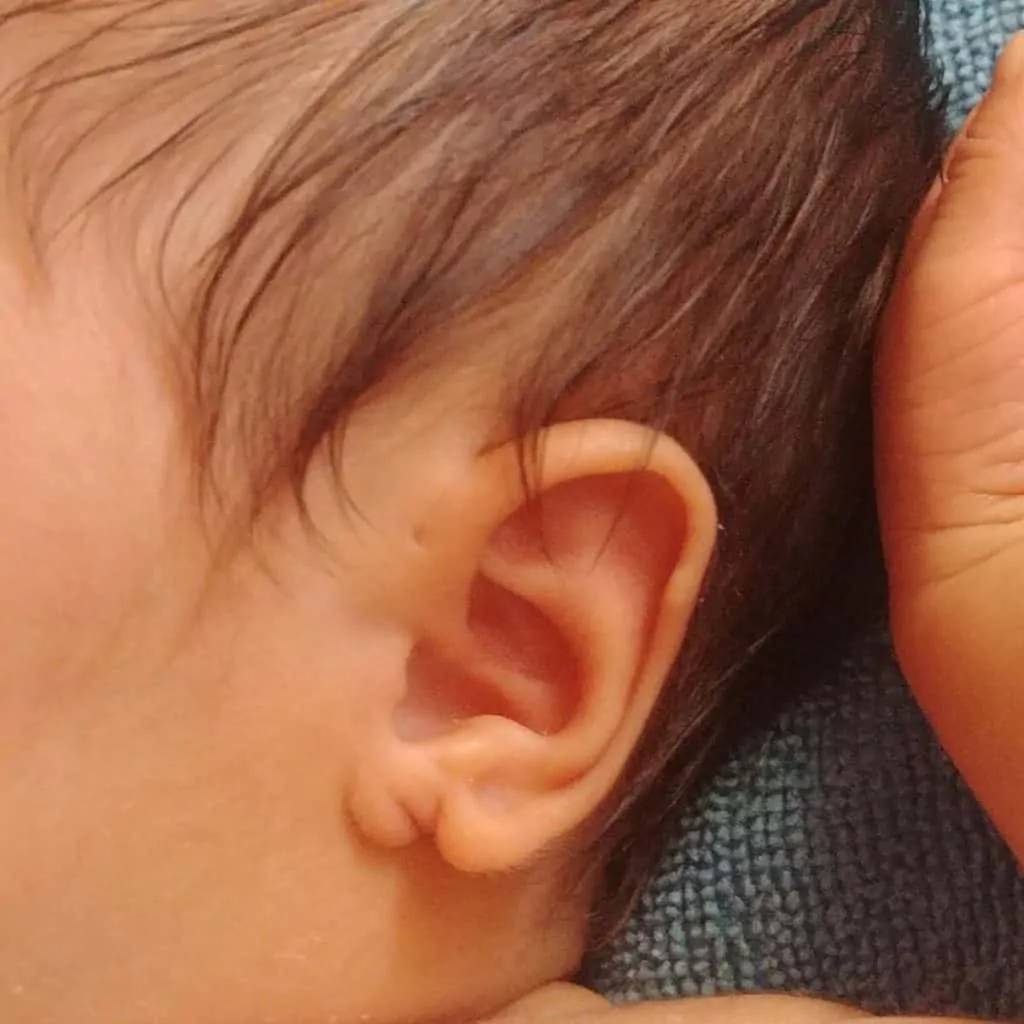 Her pediatrician says there's nothing to worry about. We should only watch out for the hole as it may sometimes get infected. He also said we can have it surgically fixed if we want to. 
CLOSING THOUGHTS
Should we fix our daughter's ear? We're still unsure.
It should be a no-brainer. We all want to look flawless. But when you think about it, it's in the scars where we find true beauty. They hold stories of encouragement, inspiration, and hope.
The doctor said it's only a matter of time before our daughter comes out dead. Yet God gave her to us alive…. and she has her left ear to tell the story.
Follow the Series
#1 We're Pregnant! But We're Diagnosed with Mega Yolk-Sac 🙁
#2 Gender Reveal: The result of the final scan.