It is okay to start our online business on Facebook, Instagram, and such. But we will eventually need to level up and create our own website if we are serious about being an internet entrepreneur.
The reason?
It is because we do not have full control of those accounts. If Facebook decides to close our page, we will be out of business at the snap of a finger. It is best to have our own homepage and only use social media to drive traffic to our site.
One of the powerful and easiest ways to create a website is through WordPress.
---
RECOMMENDED WORDPRESS HOSTING
BEST FOR BEGINNERS — Bluehost
Get started with Bluehost for $2.95/month
BEST VALUE — Namecheap EasyWP
Try EasyWP for 1 month FREE (No commitment)
---
RECOMMENDED WORDPRESS THEMES
BEST IN PERFORMANCE — GeneratePress
Explore GeneratePress
BEST FOR CUSTOMIZATION — Blocksy
Check out Blocksy Pro
BEST FOR MAKING MULTIPLE WEBSITES — Astra
Try Astra for FREE
---
What is WordPress?
WordPress is an open-source content management system (CMS). It allows users to create blogs, websites, and landing pages.
WordPress is free, secure, feature-packed, and has an enormous community of themes and plug-ins. No wonder millions of people use WordPress. — making it the most popular website publishing platform on the internet.
Why Do We Need A Web Host?
WordPress needs a web host to run. If we are building a house, treat WordPress as the structure and web hosting as the piece of land where we construct the house. We cannot use WordPress without web hosting.
What Are Themes?
If web hosting is the piece of land, WordPress is the structure; the theme is the design and layout of the house. It is where we control what our website will look like and how people will interact with it. 
WordPress, web hosting, and themes are the three essential elements in building our website. We cannot create a web page without any one of them.
Domains
I'm sorry, I forgot about this one. A domain name is the fourth requirement of a website. It is basically the address of our house. It's the one we type in the browser to visit a site. (example: https://thelearningdadblog.com)
3 Things To Look For When Considering A Web Host
Speed
Based on a study, the average time a person waits for a web page to load before leaving is 3 to 4 seconds!
Speed is one of the keys to a successful website, and it relies heavily on a web host. Great content won't matter if our visitors won't be able to see it. Getting the right web hosting service is a crucial phase when building a website.
Reliability
When a web host's servers go down, so do are our websites. We need a reliable web hosting service. We usually want to look for hosts with a 99% average uptime.
Support
I don't mind when my kids spill their milk as long as they are responsible enough to clean up the mess.
There are no perfect web hosts. All of them have their quirks. But what we want are hosts who are responsive and easy to reach when we need help with our website.
5 Things To Look For When Considering A Theme
Speed
We had already talked about speed earlier. Themes also affects a website's speed. The more features it has, the slower our site becomes. 
SEO-Friendly
What is the advantage when we open a store inside a mall? Correct, it gets foot traffic.
More traffic means more business opportunities. Similarly, we cannot expect people to go to our website by themselves. We have to find ways to get traffic to our site. One of the most effective ways to gain traffic is by making our websites searchable on the internet.
SEO is short for Search Engine Optimization. A theme that is SEO-friendly will give our sites a better chance to show up on Google or other search engines.
Search engines prioritize user-friendly, responsive, and fast websites over those that are not.
Ease of use
One of the worst things we can do when building a website is to spend all our time on the design. We want to get done with the design as fast as we can. The priority is to spend more time creating epic content. Unless we know CSS or JavaScript, it will take us forever to craft the perfect website we have in mind.
I usually look for themes with ready-to-install templates to make my life easier. I'll change the logo, the colors and then move on. But if you want to be hands-on with the design, my recommendation is to look for WordPress themes that are easy to use. Those are the themes with drag-and-drop and what-you-see-what-you-get (WYSIWYG) functions.
Support
We want a theme with great support — especially when we choose to be hands-on with the design. There will be things we don't understand or stuff we might break while using the theme. It's good to have someone to talk to or a guide we can refer to whenever we have questions.
Plug-ins Compatibility
It's a topic for another day, but it will be helpful to take note of Plug-Ins.
Plug-ins are third-party applications on WordPress that can take our websites to another level. If we go back to the house illustration, plug-ins are like your doorbell, CCTV, alarms, Wi-Fi, etc. It's those little things that adds value to your site.
Unfortunately, not all plug-ins are 100% compatible with our themes. It is an advantage to take note of which ones are compatible with our preferred plug-ins.
Recommended WordPress Hosting Services:
BEST FOR BEGINNERS — Bluehost
I've been on Bluehost since I started blogging a couple of years ago. I have nothing to complain about except for its speed.
The Good: Beginner-friendly
I did not have any problems setting up my WordPress website with Bluehost. There's a start-up wizard to guide you through, and the dashboard is easy to navigate. I also didn't encounter any significant problems or uptime issues with my website. Overall, I was pleased with my experience as a beginner.
The Bad: Performance
At first, I did not care about the speed too much. I was more conscious of the cost and the appearance of my blog. But as I mature in blogging, I learned to prioritize my site's performance to give my readers a better experience.
I am not saying Bluehost is slow. The last time I checked, this blog now loads within 3 seconds on mobile and 1 second on desktops. But that was after I overhauled the site. I changed my theme to a lighter one and removed a bunch of plug-ins. Before the changes, my site loaded at 4 to 5 seconds and had a score of 68 on Google PageSpeed Insights.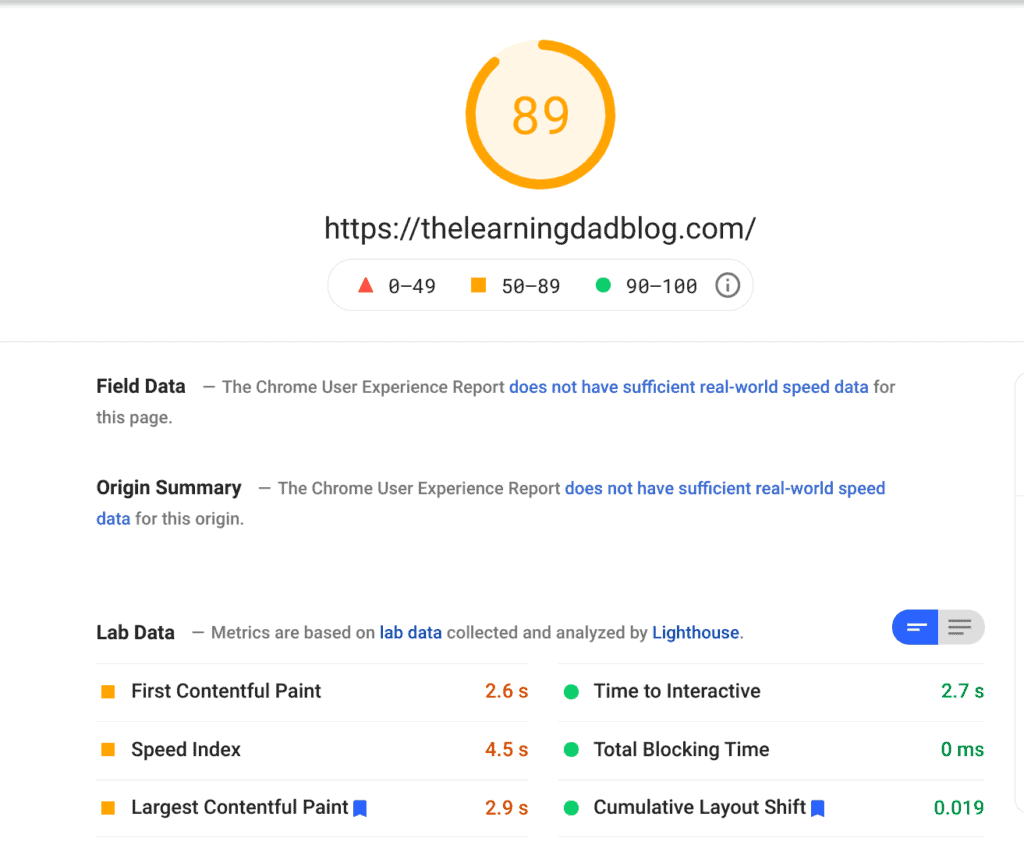 Bluehost generally performs well for most websites. But it is just that other web hosts could give a better performance for almost the same price (or even less).
Bottom Line
I cannot recommend any web hosts other than Bluehost if you are a beginner. It is easy to use, reliable and gives a decent speed for its price. Get started with Bluehost for $2.95/month.
BEST VALUE — Namecheap EasyWP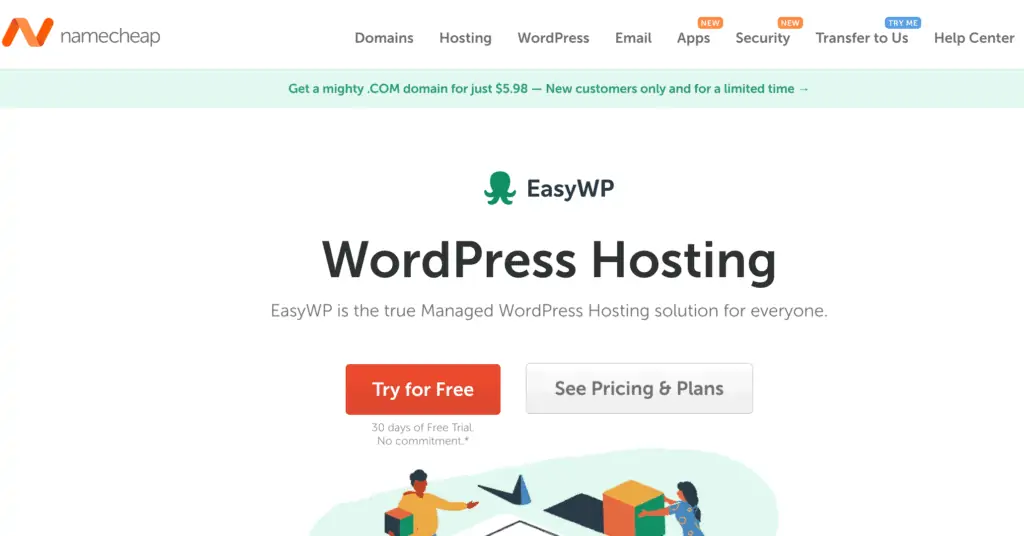 My subscription with Bluehost will end soon. I have shopped around and have decided to make Namecheap EasyWP as this blog's next home.
The Good: Performance and Price
EasyWP is 3x faster than regular web hosting with 99.9% uptime. And the price? It starts at only $3.88/month. That's all I need to hear.
The Bad: Dashboard needs a little getting used to it.
I already transferred this blog's domain name to Namecheap a few months ago. It was a smooth transition. But what I struggled with at first, was the dashboard. I feel it is too cluttered compared to Bluehost. It's like a lot is going on. I got lost a few times before I got the hang of it.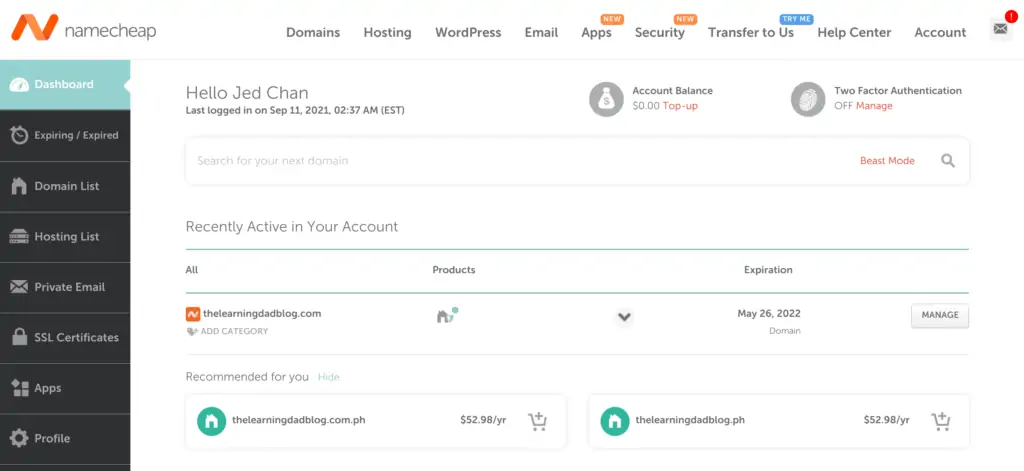 Bottom Line
Namecheap EasyWP has the best value for performance to price ratio in the market today. Their offer will make you overlook the clunky dashboard easily. Try EasyWP for 1 month FREE (No commitment).
Recommended WordPress Themes
The WordPress theme I currently use for this blog is Acabado. I love its speed and simplicity, yet it is not a theme I could recommend for now.
Here's why:
It might be too basic for most people.
The support is not great.
Not compatible with many plug-ins.
But don't worry. I did my research, and below are the excellent themes I considered before zeroing in with Acabado.
BEST IN PERFORMANCE — GeneratePress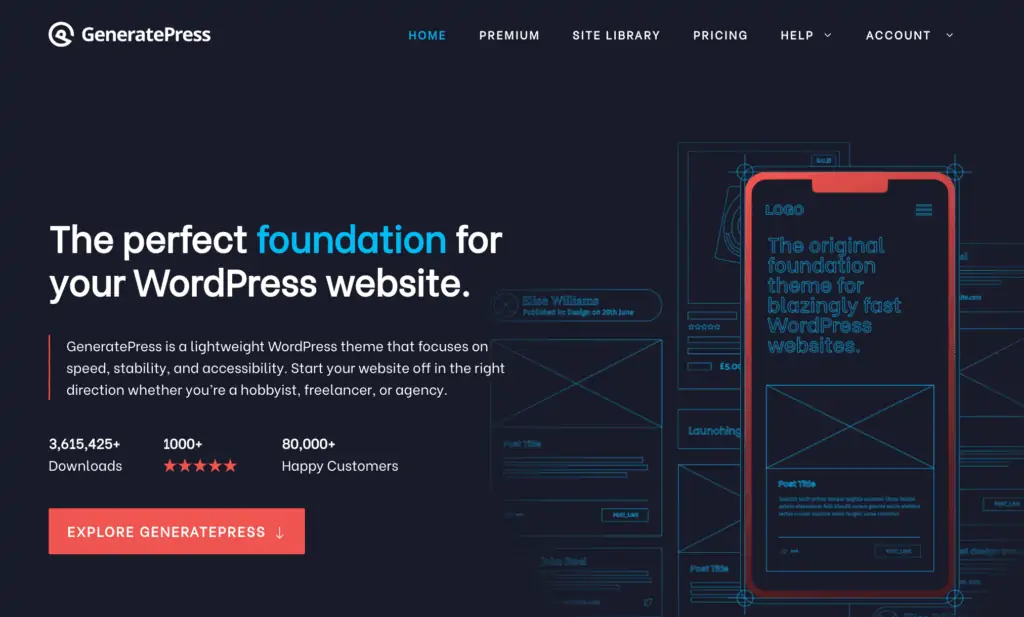 If I am not with Acabado, I would be with GeneratePress.
The Good: Super Speed
GeneratePress is the fastest WordPress theme on the planet today, period.
The Bad: Challenging To Customize
The drawback of speed is its lack of functionality. You have to, at least, have basic coding knowledge in CSS if you want to control your theme's design. But what is nice about GeneratePress is it has a template library to compensate for its weakness. You can explore their pre-built starter sites and install them with the click of a button.
Sample Sites
See more samples: GeneratePress Site Library
Bottom Line
If you are a beginner who likes to tinker with your website's design, GeneratePress is not for you. But if you value speed above all, I cannot recommend any other theme than this one.
GeneratePress is ideal for blogs and affiliate websites. Explore GeneratePress.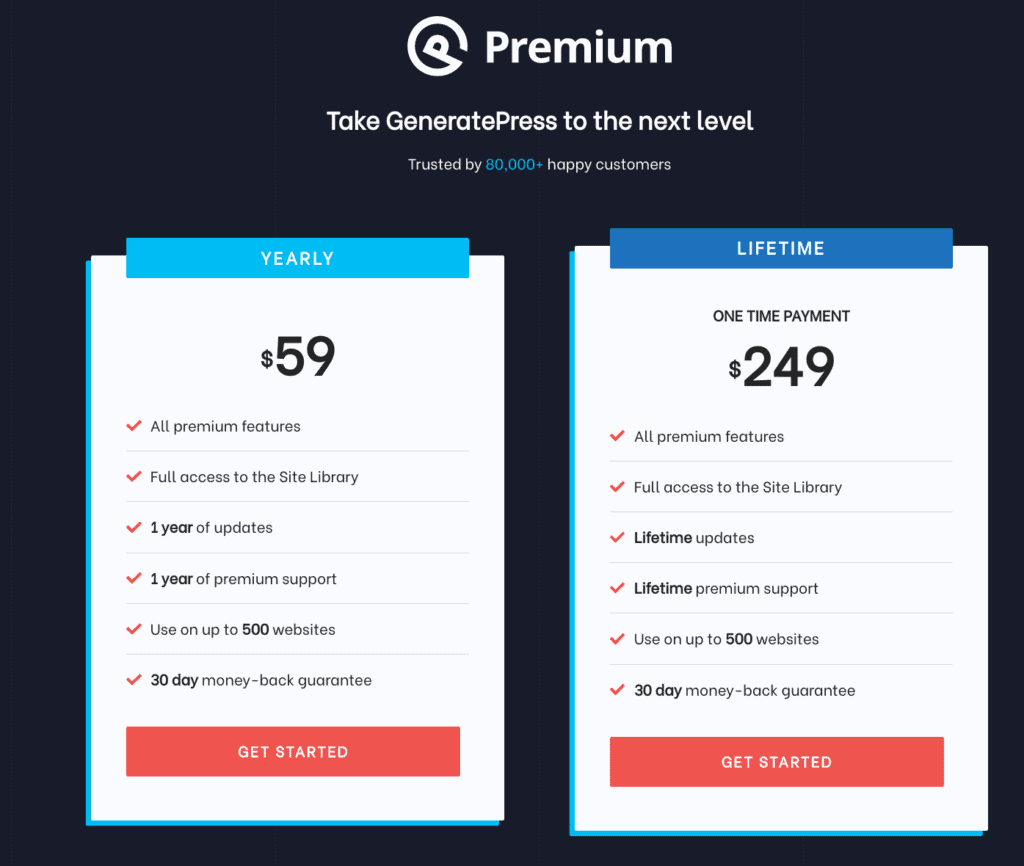 BEST FOR CUSTOMIZATION — Blocksy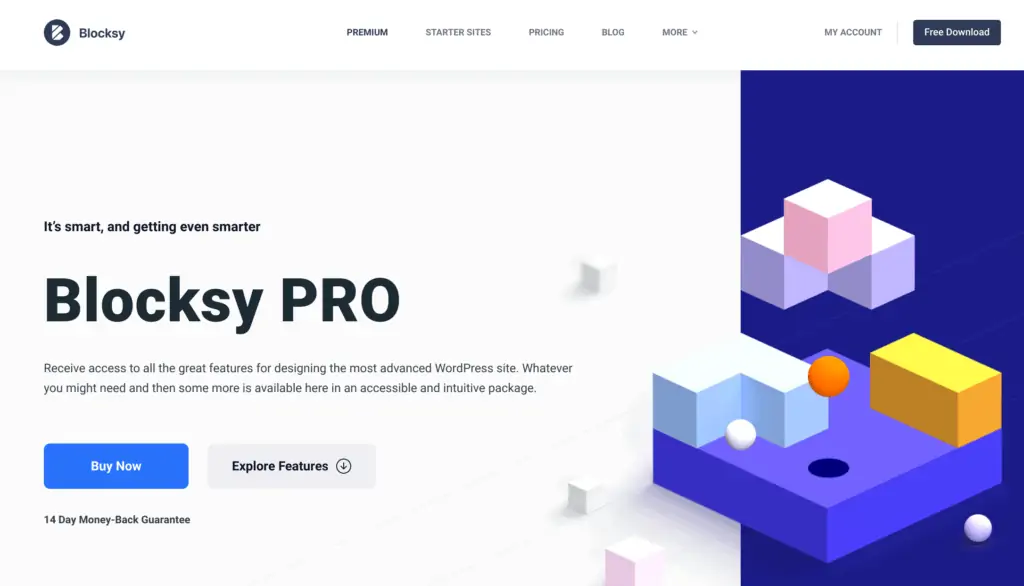 Blocksy is a balanced theme. It is fast and feature-rich. With Blocksy, you can create any website with ease and above-average speed.
The Good: Easy And Up-To-Date Customization Features
Blocksy is a WordPress theme where you can express your creativity. It has an advanced yet easy to learn builder which you can use to create the website of your dreams.
The Bad: Pricey
I don't usually take pricing as a con. But it is a special case with Blocksy. Most themes offer multiple site licenses when you buy their pro version. — Meaning you can use them on several websites. Let's take GeneratePress as an example. A $59 a year plan will allow us to create up to 500 websites. But for Blocksy, $49/year is only good for one website. If you want to use it for multiple websites, you have to pay more: $69 for 5 sites and $99 for unlimited sites.
Sample Sites
See more samples: Blocksy Starter Sites
Bottom Line
If you have one website, and customization is a priority, you can't go wrong with Blocksy. It allows you to create fast and stunning websites.
Blocksy in general, is ideal for ecommerce and portfolio websites. Check out Blocksy Pro.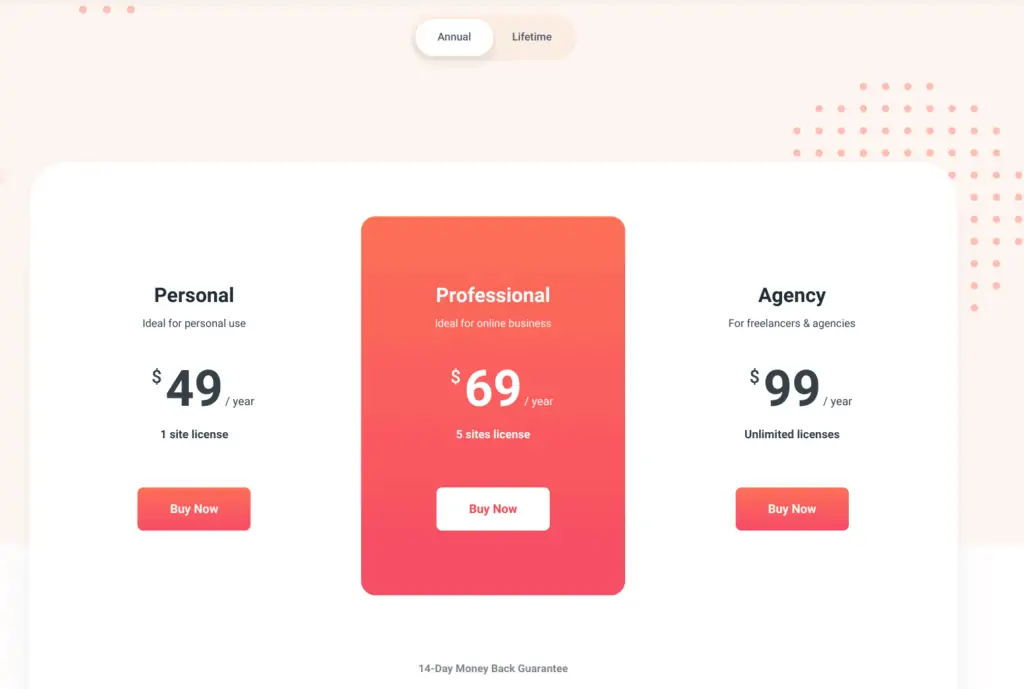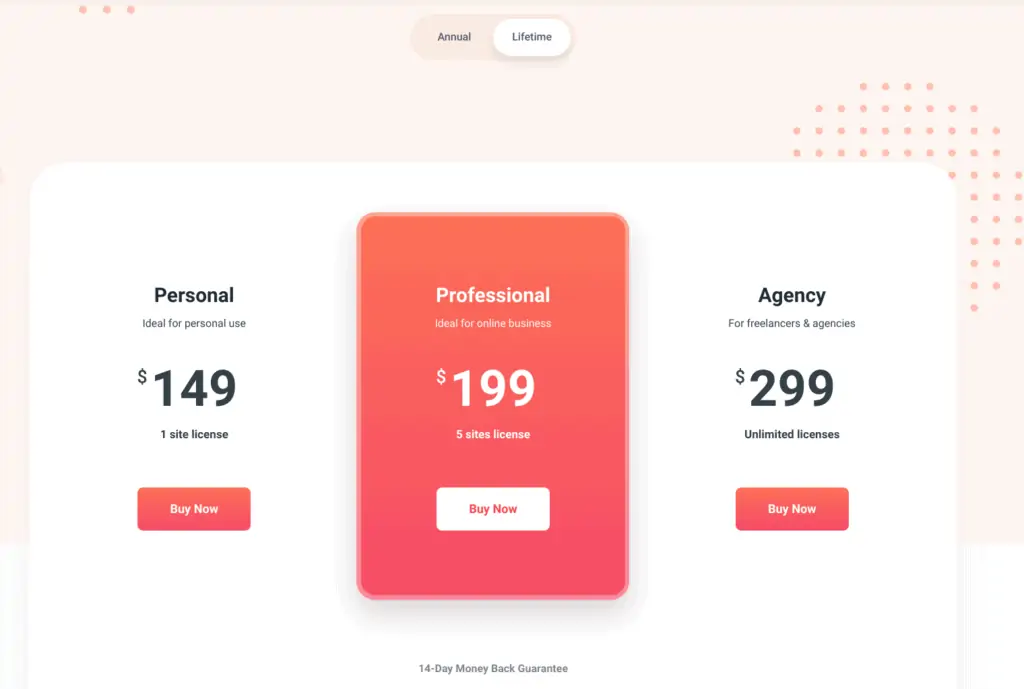 BEST FOR BUILDING MULTIPLE WEBSITES — Astra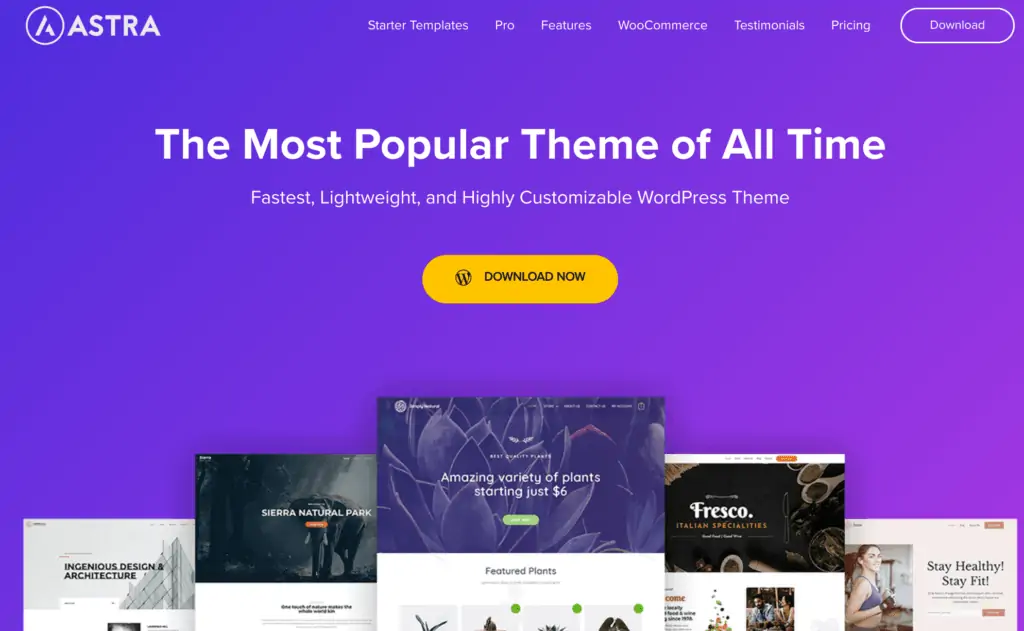 If you create lots of websites and do not want to take risks, get Astra.
The Good: Popular + Unlimited Websites
Astra is one of the most popular WordPress themes today. It has excellent ratings and reviews. If you are afraid of taking risks, the Astra theme is a sure-fire option.
Not only that, but you can also use Astra on unlimited websites for $49 a year or a one-time payment of $249!
The Bad: A Bit Slow And Dated
Astra is like the uncle of Blocksy. They are almost identical in features, but Astra feels a bit slow and dated.
Sample Sites
See more samples: Astra Starter Templates
Bottom Line
Astra is the go-to WordPress theme. If you want instant return on investments, go for Astra.
Astra is ideal for freelancers and marketing agencies. Try Astra for FREE.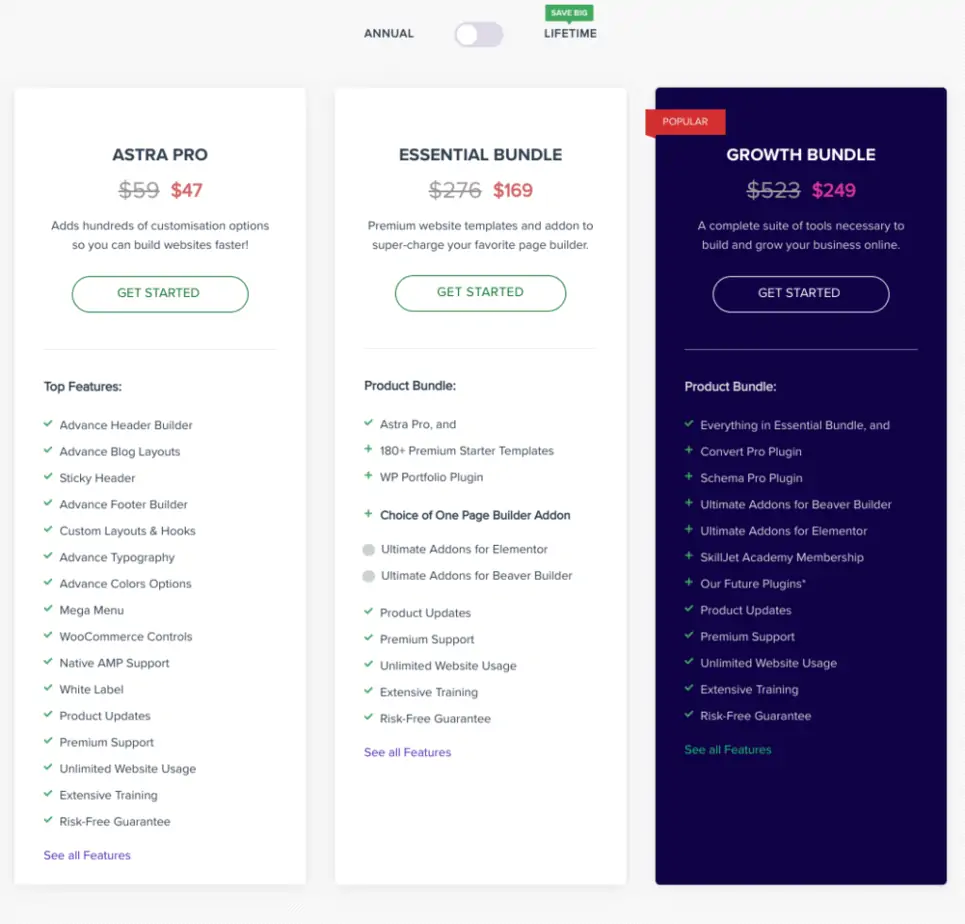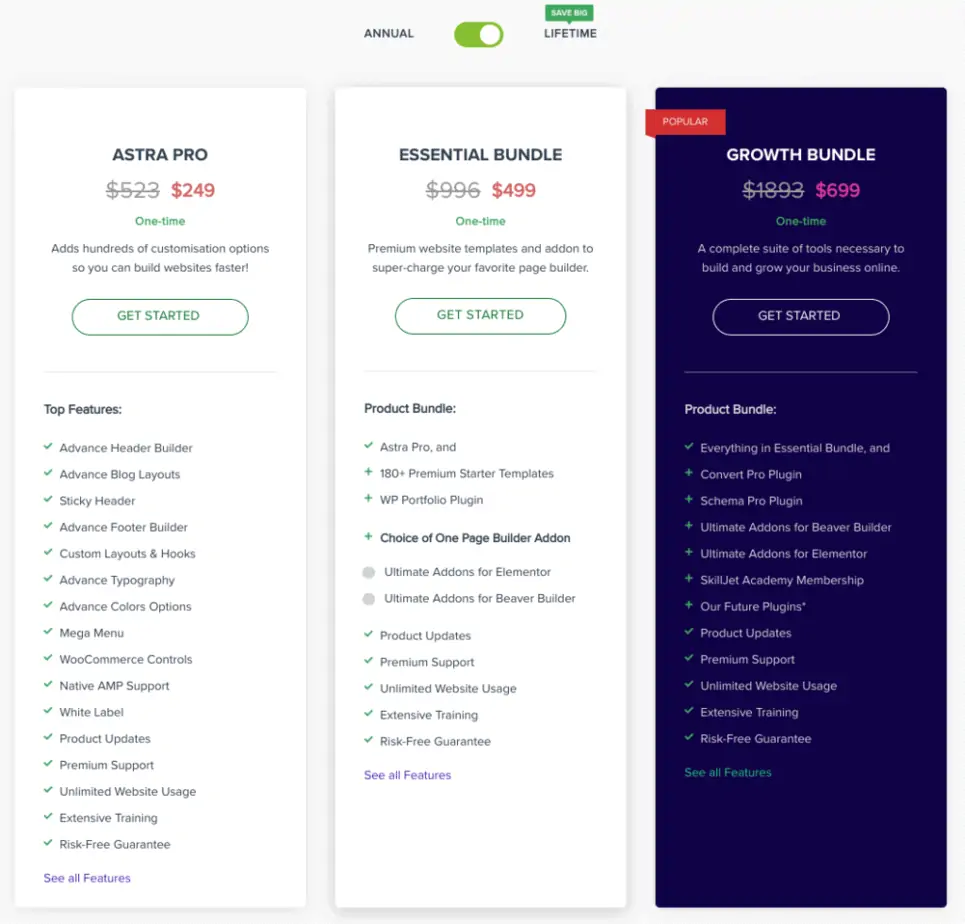 ---
Check out other recommended tools.