This post may contain affiliate links.
I have been a stay-at-home dad since 2017. Over the years, I was able to refine a schedule that works for me and my family.
Daily schedule
| | |
| --- | --- |
| Morning | |
| 6:30 to 7:00 | Wake-up |
| 7:00 to 8:30 | "Me" time |
| 8:30 to 9:00 | Morning snack and workout |
| 9:00 to 9:30 | Breakfast |
| 9:30 to 11:30 | Work |
| 11:30 to 12:00 | Do household chores |
| Noon | |
| 12:00 to 1:00 | Have lunch and clean-up |
| 1:00 to 4:00 | Work |
| 4:00 to 4:30 | Snack |
| 4:30 to 5:00 | Garden work |
| 5:00 to 6:00 | Work |
| 6:00 to 6:30 | Workout |
| 6:30 to 7:00 | Do household chores |
| Night | |
| 7:00 to 8:00 | Have dinner and clean-up |
| 8:00 to 9:00 | Take a bath |
| 9:00 to 10:00 | Light work / Online class / Social activities |
| 10:00 to 11:00 | Family time |
| 11:00 | Sleep |
Read: How much do stay-at-home dads make? — My Actual Numbers
6:30 to 7 AM: Wake-up
One of the precious gems I found as a stay-at-home dad is you get to wake up naturally. I cannot remember the last time I got roused by an alarm clock.
Every day I get up around this time, then go straight to the bathroom to brush my teeth and wash my face. 
(This, of course, was not the case when we had a newborn.) 
7 to 8:30 AM: "Me" Time
I savor the morning with some me-time at the dining area. I prefer to spend a moment with myself and the Lord while my wife and kids are still asleep. It is the only time of the day when I can have absolute peace.
My alone time consists of devotion, prayer, journaling, and book reading. After that, I will scroll around social media and watch a clip or two on YouTube. 
8:30 to 9 AM: Morning Snack & Workout
A probiotic drink plus moderate-intensity exercises jump-start my body for the day. I look for short, fun workout plans from Darebee.com to keep myself motivated.
9 to 9:30 AM: Breakfast
Breakfast was not a part of my schedule a year ago. I tried intermittent fasting, so I only eat at lunch and dinner. But several health issues made me reconsider, and I now am back at eating breakfast again.
I do not overthink what I should eat. I always go for something quick and easy to prepare. My go-to's are oatmeal, smoothie, or an egg sandwich. If we have leftovers, I grab those out of the refrigerator and dump them in the oven.  
9:30 to 11:30 AM: Work
Do you mean stay-at-home dads have work? 
You got that right. And the truth is, we are pretty busy! 
I run a blog, an e-commerce site and manage properties for rent. I am also currently working on the soon-to-open online store for my wife's jewelry business. 
All in all, I work for about six hours a day. — Not considering breaks and the interruptions from kids.
11:30 to 12 NN: Do household chores
I do my household chores 30-minutes before mealtime. 
My daily tasks:
Vacuum the floor.
Prepare the table and kids for lunch.
RELATED: 7 Common Stay-At-Home Dad Problems You May Face
12 to 1 PM: Lunch & clean-up
Mealtime is always the messiest part of the day. It is because we let our kids eat on their own. Expect food scraps and sauces will be all over the place after they eat. We no longer mind because we are already used to it. 
After the mayhem, Lalaine will take the two youngsters upstairs and dunk them in the bathtub. I, on the other hand, will stay behind and deal with the aftermath. 
1 to 4 PM: Work
I consider this as my second "me" time. It is in this period when I am most productive. I get three hours of distraction-free work since my wife and the kids are upstairs for homeschool. 
Yet, this is also the time when I need to be more mindful about my pace. I tend to forget to take breaks, which mostly leads to exhaustion.
I would set the alarm every hour to remind myself that I need to get up from my chair and walk around for 10 minutes. 
4 to 4:30 PM: Snack
It is time for a quick snack! 
My wife often buys something to eat within our village to show support to the community. Some of our options are sweet corn, takoyaki, and stir-fried noodles. But regardless of whether she got us a snack or not, I am good with peanut butter and bread.
4:30 to 5 PM: Garden work
The sun is about to set. It is the ideal time to water the plants and do other gardening tasks. It is also an opportunity to take my mind off work. 
We hope to make our backyard productive by growing some fruits and vegetables. 
5 to 6 PM: Work
Another hour of work.
6 to 6:30 PM: Workout
I will do another circuit similar to my AM workout but with higher intensity.
Oftentimes, the kids will join me in this session.
6:30 to 7 PM: Do household chores
It is the same routine as we do before lunch: Prepare the table and the kids for mealtime. 
7 to 8 PM: Dinner & Clean-up
Another round of havoc at dinner. Again, same routine as what transpired at lunch. But I have an additional task of food scraps disposal. 
8 to 9 PM: Take A Bath
Does this guy take a bath?!
Of course, I do! But I have moved my bath time at night (unless we are going somewhere). 
I found myself taking a bath twice if I bathe in the morning. There are so many activities throughout the day that makes me feel filthy by evening. To save time, I decided to do it at night.
9 to 10 PM: Light work / Online Class / Social Activities
This hour is somewhat optional. I use this time as my "extra mile." It is when I tie the loose ends from work, attend online classes, or socialize.
But if my wife wants me to watch Netflix with her, this is the hour when we stream those Korean series together.
10 to 11 PM: Family time
It is a time when we can be together as a family and prepare to sleep.
11 PM: Sleep
ZzZzZzzz…
My day goes something like this 70% of the time. But as a stay-at-home dad, I make sure I continually tinker with my schedule to fit my family's needs. 
Read: 8 Financial Benefits You Can Enjoy As A Stay-At-Home Dad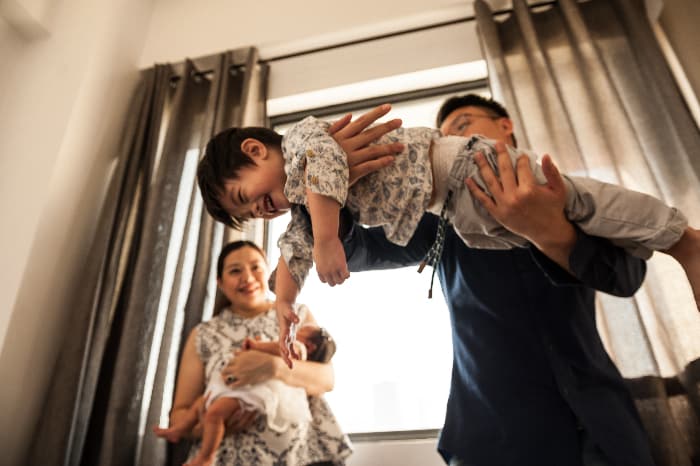 Weekly schedule
| | | |
| --- | --- | --- |
| Day | AM | PM |
| Monday | Clean house | Online church service |
| Tuesday | Planning and accounting | Online class |
| Wednesday | Meetings, deliveries, etc. | Light work |
| Thursday | Content writing | Small group |
| Friday | Social media | Free time |
| Saturday | Ministry work | Small group / Free time |
| Sunday | Rest | Family movie night |
Monday: Clean House & Online Church Service 
You can never expect a squeaky clean abode when you have two kids. No matter how many hours you sweep, it will revert to its filthy condition within ten minutes. 
It took us some time to master a technique to keep our sanity: Learn how to embrace the mess. It was then we agreed to a genius plan of cleaning our house once a week.
Monday is also the day when we attend our online church service. We listen to a pre-recorded message at dinner while we harness the kids to their chairs. This way, we all can listen to the sermon without too many distractions. 
Tuesday: Planning and Accounting & Online class
Tuesday is the most important and busiest day of the week.
It is the day when we:
Plan and set the tone for the workweek.
Do our weekly accounting.
Organize and prepare our garbage for pick-up.
I also regularly attend my online classes on Tuesday nights. I am currently in Chris Voss' Negotiation MasterClass and Income School's Project 24. 
The Learning Dad Blog is an affiliate of the MasterClass. You can use this link to check out Chris Voss' and other business courses in MasterClass. 
Wednesday: Meetings, Deliveries, Etc. & Light work 
I schedule all offsite work on Wednesdays. Meet-ups, deliveries, groceries, and whatnots are all done on this day (as much as possible). 
As for the kids, we will drop them off at our parents' house while we do our errands. It is an excellent opportunity for them to interact with other family members. 
And since I was out all day, I will take a night shift of light work to catch up on some of the vital tasks I missed. 
Thursday: Content Writing & Small Group
Thursday is when I double down on content creation. It is the day when all I do is write blog posts, product posts, and newsletters. 
At night, my wife and I will join a small group for married couples.
Friday: Social Media & Free Time
Friday is social media day. It is the day when I create, curate, and schedule posts for next week. I use a social media manager to do this. It helps me save a ton of time. 
As for nighttime activities, there is none — and it is intentional. I do not want to fill my bucket up to the brim, so I will have room in case something comes up. I keep my Friday night schedule open to accommodate any sudden engagements. 
Saturday: Ministry Work
Saturday is the day when I give back. Whenever I have ministry work, I do it on this day.
Every other week I facilitate a small group for young professionals.
We are now in our third year. Praise the Lord!
Sunday: Rest & Family Movie Night
Sunday is a day of rest. We will have a delightful breakfast in the morning while the kids are in their virtual Sunday school. Then in the afternoon, we will have a siesta and appreciate the slowness of the day. 
We will cap it off with a family movie night over buttered and cheesy popcorn.  
Read: Is Being A Stay-At-Home Dad Bad? — A Wife's Perspective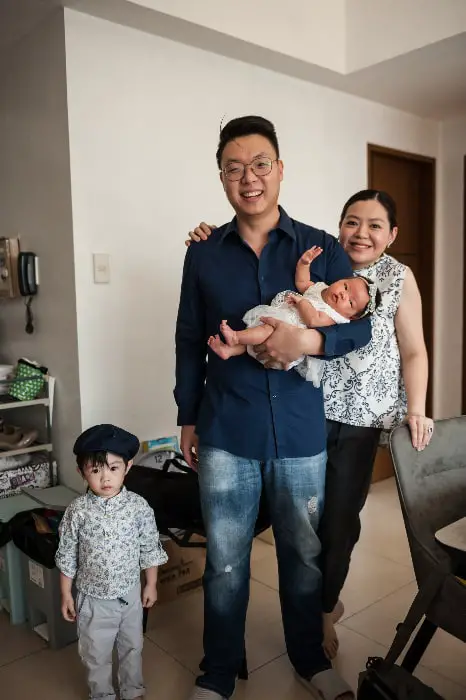 Monthly Schedule
| | |
| --- | --- |
| Every 3 weeks | Date night with wife. |
| Once a month | Spend 4 days and 3 nights at parents' house. |
| First and last Wednesdays of the month | Pay bills |
Every three weeks: Date night with wife
Every three weeks, my wife and I go on a date. We drop the kids off at my parents' house, and we will take off to eat Korean BBQ or something. It is a date we look forward to each month.
Why every three weeks? 
It is because we want to make the most of our budget. We prefer to have an occasional nice dinner than a frequent one on a tight budget. In a sense, we give ourselves three weeks to save up for a fancier date night.
Once a month: Spend 4 days and 3 nights at parents' house.
We used to visit our parents every Sunday. 
But two things happened:
Covid-19
We moved to the suburbs — which is about an hour away from them. 
For these reasons, we think it is no longer practical to visit them each week. So what we both agreed to do is consolidate those Sundays into one ultimate weekend each month. 
First and last Wednesdays: Pay bills.
It is expensive to get penalized by your billers. You are technically paying for nothing. It is the reason why I am vigilant about payment schedules. 
We do not wait for due dates. We settle all regular bills every first Wednesday — even if we have not received their statements yet. These are the bills which, more or less, have the same amount each month. 
As for the metered bills, we pay them on the last Wednesday of the month. 
Paying in advance does not only save you money. It also saves you time and a lot of headaches.  
Yearly Schedule
| | |
| --- | --- |
| Once a year | Physical check-up |
| First week of September | Renew vehicle registration |
| Third week of December | Settle property taxes and association dues |
Once a year: Physical Check-up.
My wife's retina got detached five years ago and was fix surgically. She also has high cholesterol levels — which is something she inherited from her family. 
As for me, I need to watch out for uric acid and bad cholesterol as well. 
We are not getting any younger. Blood exams and physical check-ups are something we do annually.
On top of this, we also visit our dentist and dermatologist twice a year.
First week of September: Renew Vehicle Registration.
I am not sure why I included this one. Guess I wish to be transparent with all my schedule as much as possible. So yeah, I also take care of the yearly registrations our household needs.
Third week of December: Settle Property Taxes and Association Dues.
I settle all our realty taxes and association dues during this period to save costs and, not to mention, time. 
If I pay for the entire year in advance, I would get a 10% to 15% discount on my taxes and dues. — And that already is a big win for next year. 
Read: How to become a stay-at-home dad: To-do list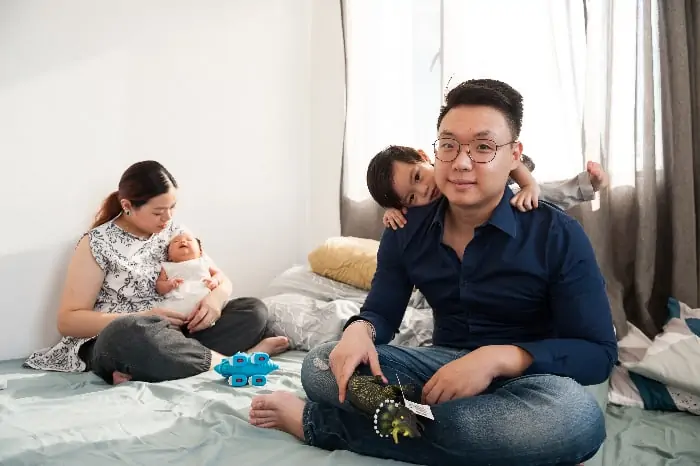 Closing Thoughts: Are stay-at-home dads lazy and pathetic?
There has been a notion circulating the web that looks down upon stay-at-home dads. 
Many people think we stay home because:
We lost our job.
We are lazy.
We are waiting for the right opportunity.
Our wife has a better career. 
These are just some of the common misconceptions about dads who chose to stay home. 
Being a stay-at-home dad is a noble career. Like any other profession, it requires hard work and dedication to be effective. Fathers who work at home do not only provide financial support to their kids. They can also give them physical, emotional, social, and spiritual assistance.
I hope the real-life schedule of a stay-at-home dad presented above will clear some smoke surrounding this matter. 
We are not jobless.
Being a stay-at-home dad has a lot of benefits. 
It is cost-efficient.
It is also time-efficient.
You are always available for your family.
You witness and experience precious moments with your children.
Believe it or not: It opens better opportunities to make money. 
I can go on and on with this list. 
But I know the feeling. Not many people would understand. I also get the "Don't you have any job?" look. I cannot blame them, especially when they see me playing with the kids in my tank top and shorts in the middle of the day. Some, out of their good heart, even offered us financial support!
Thank you, I would be more than willing to accept the love gift. But the Lord has blessed us immensely. I would never afford and enjoy my life at home without Him.
I got an offer for a managerial position in a hotel a couple of years ago. It was not a hard decision even though the pay was tempting. I told them I appreciate the offer, but I am happy with my current job. 
Every day I thank the Lord for allowing me to become a stay-at-home dad. It is something I treasure and would not trade for any other profession any time soon. 
---
Keep In Touch
---
If you liked this post, you might also like this one
---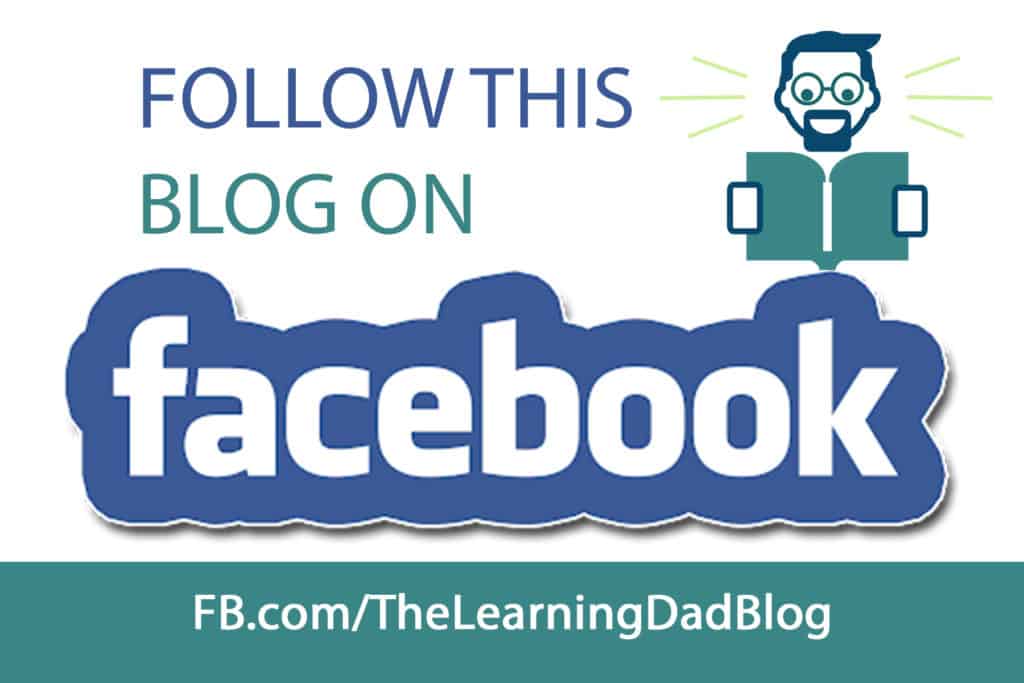 ---
Thank you for reading!