This post may contain affiliate links.
Finding the right financial tools to manage your finances can be overwhelming. There are countless apps, software, and other programs available on the market today. What is good is you do not really need many tools to be effective in managing your finances. You only have to find a few essential ones and align them to the way you approach money management. If you are not sure where to begin, start with the most important one.
A budget planner is the most important financial tool you should have. Money management is about keeping track of your income and expenses. You can use budget planners to make sure your inflows are greater than your outflows. Without such a tool, you will be at risk of overspending.
The goal of this article is to give you an overview of the different financial tools available to you. Read on to learn the purpose of each tool and how to use it effectively. I will also share the list of financial tools I have, and the techniques for using them on a day-to-day basis. Disclaimer: The information contained in this post is for educational purposes only. It doesn't intend to give professional advice.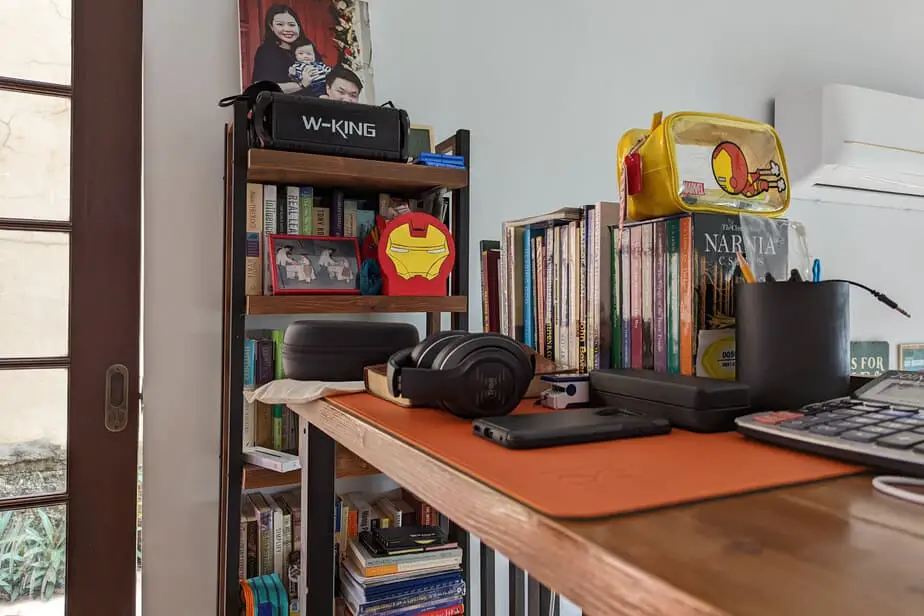 Why are financial tools important?
Using financial tools is essential because they help you manage your money more effectively and efficiently. Working with numbers is a daunting task. These tools will make money management so much easier because all you have to do is input the amount, and it automatically does the accounting for you.
I doubt if anyone can get by without having at least one financial tool today. But let us say there is someone who can. The question then is, why don't we take advantage of such tools? No matter how skilled a person is at manual computation, I bet he or she will still be more effective with a tool than without one. If it is a cost issue, well, the majority of financial instruments nowadays are either free or on a pay-as-you-grow basis. Meaning you only pay for the service once you have reached a certain threshold. As for the learning curve, most tools are generally easy to use, and they come with a video tutorial to help you. There are no compelling reasons not to use a financial tool.
Types of financial tools
Accounting software.
This program is usually used by businesses to manage their finances, automate accounting workflows, and organize data among different departments. It is a complex tool that can also be developed to handle many financial tasks such as invoicing, budgeting, inventory management, and banking. Be sure to look for the essential features applicable to your business before choosing an accounting software. It can be a hassle to migrate your data from one tool to another. If you are looking for a recommendation, one of the reliable accounting software I found is Zoho Books. You can use it for free if your revenue is less than 50K USD per year.
Expense tracker.
As the names suggest, this tool helps you keep track of your expenses. This feature is often already part of some accounting software or budget planners. But there are situations when tracking your spending can be a bit more complicated than usual. For example, during travel and events. If you are interested in this type of financial tool, check out Zoho Expense. It is the expense management tool used by many popular brands, like Puma, Food Panda, and Samsonite.
Budget planner.
As mentioned at the beginning of this post, a budget planner is the most vital tool in money management. It helps you prevent overspending and thus leads you to a healthier financial life. Being able to stick to your budget is the main objective of this tool. So, it is essential to look for a software or an app that is pleasant to use and easy to access. What I have used so far are MoneyLover and Bluecoins. You can download these apps on your Android or iOS devices for free. But you have to pay to unlock the full features or remove the ads.
Billing solution.
If you are in sales, this tool is a necessity. A billing solution allows you to quickly and easily collect payments from your customers. It also organizes and efficiently monitors which transactions are already paid, and which ones are not. Some services even have an automated billing feature that handles your customers' regular recurring payments. Here are some of the noteworthy pay-as-you-grow billing solutions: Zoho Invoice (free forever) for crafting professional invoices; Zoho Subscriptions for recurring billing; Zoho Checkout for building custom checkout pages.
Inventory system.
Managing your stocks well is crucial to your store's overall reputation. You do not want to offer your customers products that are already out of stock. Or worse, deliver items they did not order. An inventory system helps you stay on top of your stocks. This tool manages your orders, tracks deliveries, and analyzes which goods have the highest demand. If ever you wondered what inventory system FedEx, DHL, and UPS are using, they all use Zoho Inventory.
Payroll manager.
Managing your employees' payroll is going to be one of the most dreadful tasks you will ever face as your business grows. It's labor-intensive and error-prone. If you plan to build a team of more than ten people, investing in a payroll manager might be a smart move. This tool will help you manage and track your employees' schedule, simplify the payroll process, and generate performance reports. If you need a simple yet powerful payroll management solution, take a look at Zoho People and Zoho Shifts.
Financial Calculator
Making money-related decisions has never been easier thanks to financial calculators. Gone are the days when you need to memorize the formulas or ask accountants to do computations for you. Online calculators such as Calculator.net and Fncalculator.com can already help you calculate complex financial equations like taxes, mortgages, and return on investments.
Digital wallet.
This tool makes it easier to transact online and offline. What it basically does is keep your financial information, and make it accessible via smartphone or other devices. Digital wallets are normally linked to your email address, phone number, debit/credit cards, bank accounts, and are secured by a password or fingerprint. Some options for the best e-wallets include PayPal, Google Wallet, and Alipay.
Mobile banking.
A tool provided by banks to enable their customers to transact remotely. It is a convenient way to deposit and transfer funds using your smartphone. With mobile banking, you can skip the lines and do bank errands according to your own time. Furthermore, some digital banks also offer savings accounts that give higher interest rates than traditional banks. Thus far, my favorite mobile banking app is ING.
Online trading platform.
Growing our money is always a part of financial strategy. To survive is one thing, but we should also plan to thrive. That is why having easy access to various investment channels is an advantage. Online trading platforms help us to comfortably invest in mutual funds, equities, and other assets. For global trading, some of the best ones are eToro, xtb, and Trading 212.
What tools do you use in budget planning and management?
Spreadsheets and note-taking apps are the two main tools I use for budget planning and management. I use a spreadsheet to organize my data, and automate the computation using its formula function. While a note-taking app or service is for tracking my payables, receivables, and inventory.
I am the type of person who likes to try out a lot of different tools but ultimately uses the ones he is familiar with. I have already test-driven many financial apps, software, and web services. What I found out is that most of them can actually be replaced by simple spreadsheets and note-taking apps. Unless a tool is special enough, I tend to stick with the basics.
Financial tools and techniques
Below is a complete list of my financial tools, along with how I use them daily. You might be surprised at how simple they are despite the powerful ones I have listed above. I am currently managing a blog, a small e-commerce site, a few investments, and a family of four. I don't think I need to subscribe to those tools yet.
Bluecoins: my go-to expense tracker.
Tracking your expenses is tedious. What I do here is very straight forward. I open Bluecoins and record every amount I spent. With a shortcut on my phone's home page, I can input expenditures in less than ten seconds. This helps me build the habit of taking note of my expenses. I also make sure they are recorded under the right categories. It enables me to view in the report which area I tend to spend the most.

Google Sheets: for planning my budget.
I have a somewhat different approach to budgeting. It is called the zero-based budgeting system. I got it from Dave Ramsey. If you want to get an idea of how it works, I have written about it in this article; and also in this one. Unfortunately, most tools I have tested do not naturally support this kind of method. But I don't mind. Google Sheets has worked well for me for the past five years. I bought an online tutorial for mastering Google Sheets called Better Sheets to help me design the spreadsheet I need. I wish to show you the actual sheet I made. Yet, I am afraid I may be the only person who will be able to understand it for now. It still needs to be polished. But here is the simplified version:
| Total cash on hand | 100% | $1,000 |
| --- | --- | --- |
| Budgets | | |
| Savings | 10% | $100 |
| Necessities | 30% | $300 |
| Transportation | 10% | $100 |
| Business/Investment | 15% | $150 |
| Debt payments | 15% | $150 |
| Giving | 10% | $100 |
| Fun/Travel/Entertainment | 10% | $100 |
In summary, the spreadsheet will automatically distribute my income into their corresponding budgets — according to its percentage.
Google Calendar: to monitor my recurring bills.
All my monthly, quarterly, and yearly bills are encoded into my Google Calendar. This helps me be on top of my payables and avoid getting penalized. To save time and put things more organized, I clustered all the liabilities into two days. All that's due in the first half of the month will be paid on the 10th. And everything due by the end of the month shall be settled on the 25th.
Google Keep: to keep track of my payables, receivables, and inventory.
This is my favorite financial tool of all. I really enjoy working with Google Keep. It is actually a note-taking app where I monitor my payables, receivables, and inventory. This tool is very versatile. I have a lot of use for it, besides managing my finances. It can also serve as a shopping list, a dream board, and a clipboard.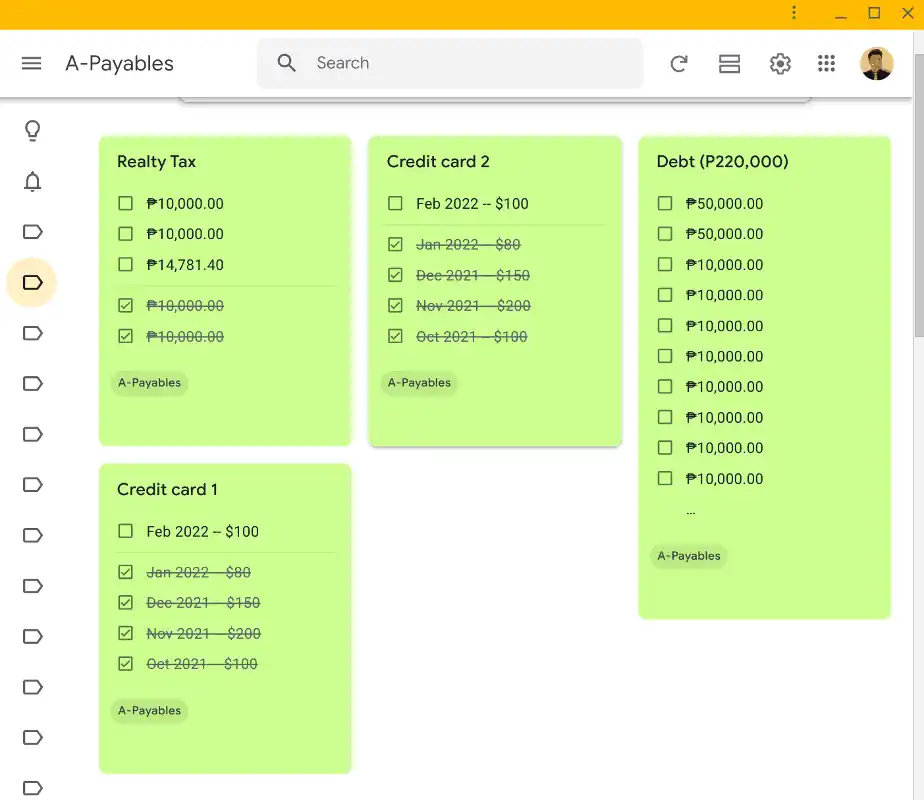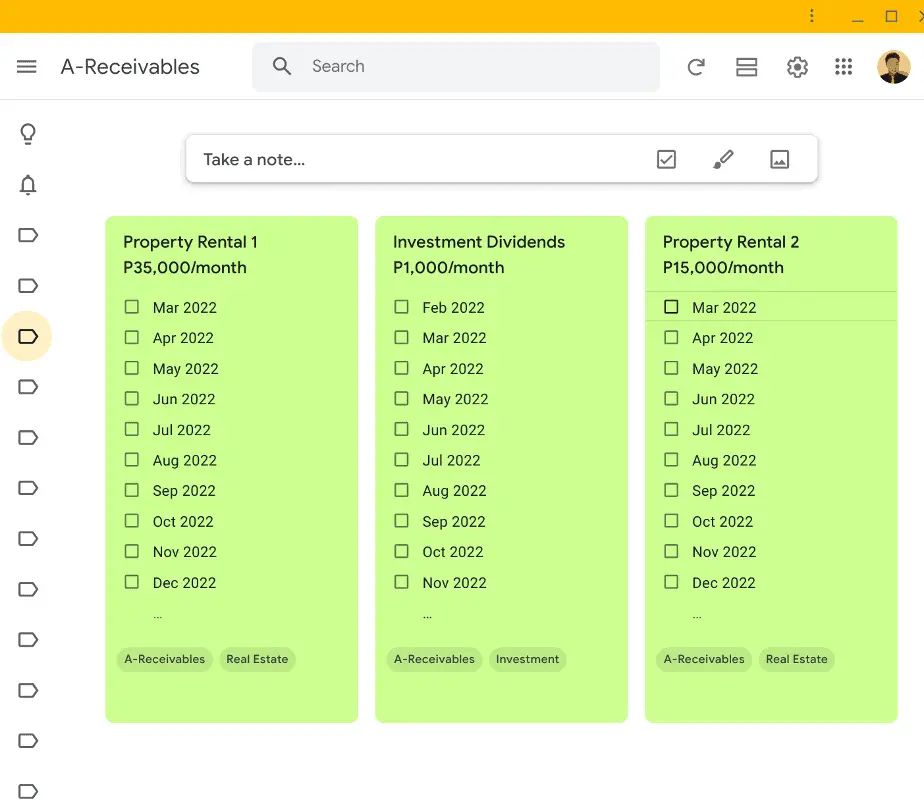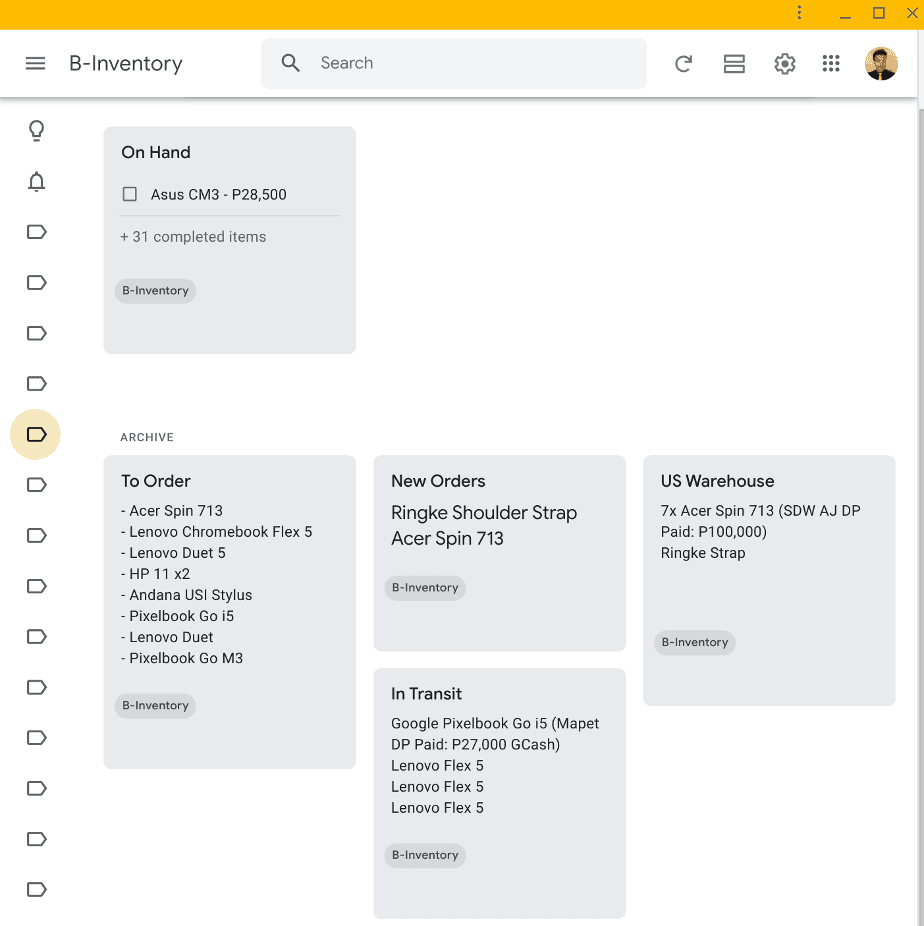 PayPal: for debit/credit card billing and check-out transactions.
While most of my online transactions are through bank-to-bank transfer, it is an advantage to offer customers the option to pay via debit or credit cards. With PayPal, I have the ability to bill my customers via email or through a check-out page. Furthermore, PayPal can also serve as a digital wallet where I use it to make online purchases or transfer funds to other countries.
Payoneer: to accept funds from overseas affiliates.
I can generally use PayPal for this purpose as well. But the problem is, it is not efficient. PayPal charges too much for this service. Plus, not all my affiliates abroad can transfer via PayPal. This is the reason why I use Payoneer. Having a Payoneer account is like having my own bank account in the US, UK, and Japan.
ING: for local fund transfers, bill payment, check deposit, and savings.
This is my go-to mobile banking app. I use it to transfer funds, withdraw cash from ATM, pay bills, deposit checks, and finally park my unused cash. I also generally use BDO, BPI, and GCash. But here's what I love about ING: 1. Check deposit. Other apps do not have this function. 2. Free fund transfer. But not real time since it's via PESONet. But it is not a big deal to me since I usually pay in advance. 3. Withdraw cash at any ATM for FREE! No further explanation is needed 4. Generous interest rate. Money parked on ING will incur 2.5% interest per year. It's much higher compared to other bank's 0.125%.
COL Financial: for investing.
This tool helps me invest in index funds regularly. COL Financial is an online trading platform based here in the Philippines. I am not yet into the global stocks, but I'm planning to go there soon. For now, I plan to bulk up my index fund portfolio a bit more before diversifying internationally. If you want to learn more about COL Financial, you can download this very short e-book I made.
Closing thoughts:
Money is only a tool. It will take you wherever you wish, but it will not replace you as the driver.
— Ayn Rand
3 tools of financial managers
Personal finance is personal. It is an idea I have expounded on in a separate post. The general notion is about the essentiality of managing our own finances. There's no other person who cares about our money more than we do. In a sense, we should all consider ourselves as financial managers. With that said, if ever I had to choose only three financial tools to manage my money, these would be my picks:
Budget planner: to control my cashflow.
Digital wallet or mobile banking: to accept payments and move funds.
Online trading platform: to allow me to invest regularly.
In the end, financial management is about making, keeping, and spending your money efficiently and effectively. And these are the basic tools that will help you accomplish them.
See also