This post may contain affiliate links.
"The more you learn, the more you earn." I firmly believe in this adage.
2016 was my worst financial year ever. My business failed, and my creditors were hunting me. All I had left in my bank account was $100 bucks. I didn't know where to go or what to do, so I went into hermit mode at my parent's house for the next six months. I did nothing during those times except learn, learn, and learn.
It was February 2017 when I was able to get out of my lair and start over again. Because of my six-month study, I was able to save, invest, open a business, and pay off several debts by the end of that year.
Read: How We Killed 8 Credit Cards
I don't know who I am talking to right now. Nonetheless, one of you could be in the position today where I was a few years ago. I am terribly sorry for what you are going through, but I am here to tell you there is hope.
Give yourself time to learn. See where it will take you one year from now.
Here are 6 best ways to learn business at home:
Read books.
Enroll in online business courses.
Listen to podcasts.
Join (or create) a mastermind group.
Take risks. Engage in trial and error.
Be a member of Project 24 by Income School.
---
1. Read books.
Books are always the obvious choice when it comes to learning, yet many people wince whenever they are told to read.
I was one of them.
I'm not a fan of reading since I was a kid, but I hated my financial situation so much that it has transformed me into a voracious reader. I have read more books, cover to cover, during my six-month hiatus than when I was in elementary, high school, and college combined.
Most of the books I read were about finance, entrepreneurship, and marketing. Here are some of my recommendations to get you started:
Finance
Money is the lifeblood of any business. It is imperative to start learning about finance first, more than any other topic.
If you want more book recommendations on finance, check out this post:
Read: 9 Good Financial Management Ebooks Worthy Of Your Time and Money
Entrepreneurship
Entrepreneurship books will teach you how to discipline yourself, develop a product, and serve your customers.
Read: 10 Important Skills Of A Successful Entrepreneur As Per Starbucks & Disney
Marketing
Whether it is a product, a service, or an idea, the goal of any company is to sell. Marketing will always be an essential subject in business.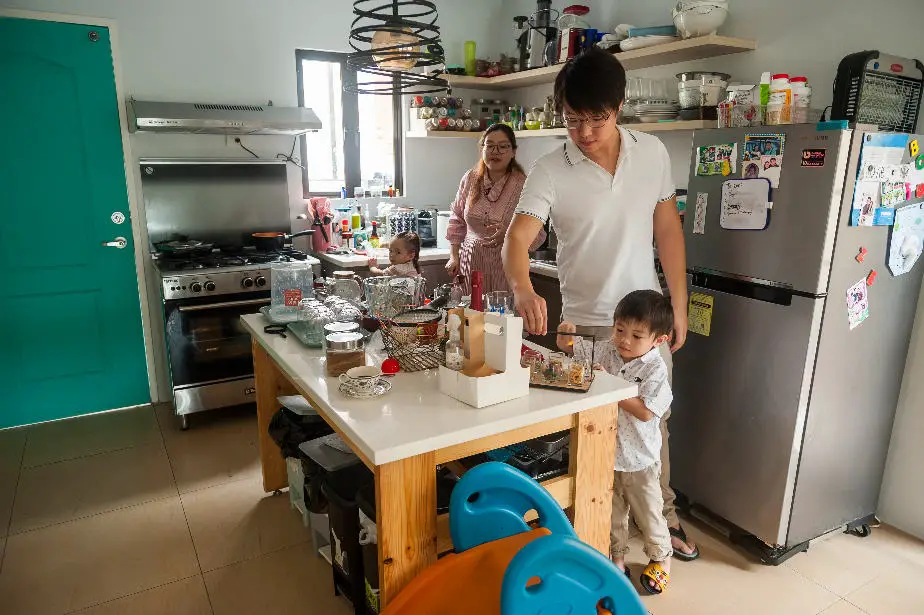 2. Enroll In Online Business Courses
If you prefer a lecture type of learning, then online courses are for you.
Online courses are a series of on-demand videos that can be accessed through different web platforms. Some popular examples are:
Learn from Fiverr is an online, on-demand video classes platform, specially tailored for freelancers and professionals. All classes are taught by top experts, who are distinguished in their fields.
Whether it be in business and leadership, photography, cooking, writing, acting, music, sports, or more, MasterClass delivers a world-class online learning experience.
Build skills with courses, certificates, and degrees online from world-class universities and companies.
Choose from 183,000 online video courses with new additions published every month.
Online courses are also the best option if you need to build credibility. Some of them issue certificates or even a degree.
Here are the top reviewed business courses on the web right now:
Read: How To Better Myself At Home? Here Are 5 Exciting Masterclasses To Try
3. Listen To Podcasts
One of my favorite ways to learn is by listening to podcasts. It is an efficient way to gain knowledge, especially when you are doing mindless tasks, like cleaning the car or running on a treadmill. 
Podcasts are like a series of recorded radio shows that are focused on a particular theme or topic. They are usually broken down into episodes that you can download on your devices through an app.
Here are a few of my favorite podcasts:
| Podcast | Overview | Category |
| --- | --- | --- |
| The Investor's Podcast | A podcast where they interview and study famous financial billionaires and teach listeners what they have learned. They also share their knowledge of how to apply them in real life. | Investing |
| Smart Passive Income with Pat Flynn | Pat Flynn teaches about online business, blogging strategies, income sources, and marketing tips and tricks. | Business |
| Craig Groeschel Leadership Podcast | Craig Groeschel offers personal and practical coaching lessons about leadership. He teaches ways to grow as a leader, optimize time, develop teams, and structure an organization. | Leadership |
| Your Move With Andy Stanley | Andy Stanley teaches us how to make better decisions and live with fewer regrets. | Lifestyle |
| The EntreLeadership Podcast | It features live discussions and tips on leadership and business. | Business |
| The Dave Ramsey Show | Dave Ramsey rants about money, teaches budgeting, how to get out of debt, and more. | Finance |
| Life, Money, and Hope with Chris Brown | Chris Brown offers biblical wisdom and practical advice on careers, parenting, relationships, and money. | Lifestyle |
| Premium: Project 24 Blogging Podcast | They teach practical techniques on social media, SEO, creating digital products, eCommerce, and generating passive income online. | Marketing |
| Bonus: The Minimalists Podcast | Teaches us how to live life with less. | Lifestyle |
Read: How to become a stay-at-home dad: To-do list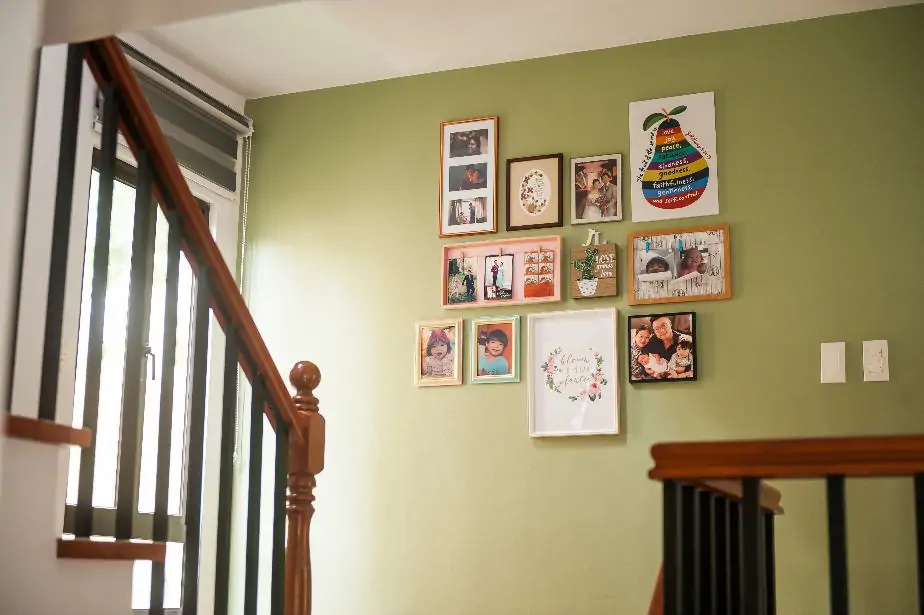 4. Join (Or Create) A Mastermind Group
What is a mastermind group?
A mastermind group is a regular gathering of peers to give each other counsel and support. It is a meeting with a particular theme and purpose. A mastermind group is a good avenue to brainstorm, ask questions, share achievements, and be accountable to each other.
If you find you are weak at persistence, surround yourself with a Mastermind Group.

Napoleon Hill, author of Think and Grow Rich.
I am currently a member of two mastermind groups. One with older people who I can learn from. And another group with younger members where I can share my knowledge, and get fresh ideas.
You can find a lot of mastermind groups online. They are usually on these platforms:
Facebook Groups
Reddit
Quora
Discord
However, I found most of these groups were only used for self-promotion. I am sure you will find a few good groups there if you look hard enough.
But it is still best if you can be part of a mastermind where you can grow and build relationships. It can be a group with your friends, church members, neighbors, or colleagues. Call a few of them and agree to meet on Zoom or Google Meet once or twice a month.
Here is how a mastermind group usually works
Requirements
A facilitator and learning materials.
As the name suggests, the facilitator facilitates the meeting. He presents the learning materials, asks questions, and gives time for members to share their thoughts. He regulates the efficiency of the session by keeping track of the time as well as making sure the discussions are on topic.
Learning materials are where you will base the discussion of the meeting. You can use a chapter from a book, invite a resource person, or a recorded video from a lecture.
Flow
You can dedicate two to three hours per session (depending on the size of your group).
Let us say you will have your mastermind group at 2 PM:
2 ~ 2:15 PM
Catch up, small talks, pleasantries.
2:15 ~ 2:30 PM
Icebreaker: Discuss an opening question, play a mini-game, or do a short activity.
2:30 ~ 3 PM
Presentation of the learning material.
3 ~ 3:50 PM
Group discussion and sharing.
3:50 ~ 4 PM
Closing remarks.
4 PM
End
Having a mastermind group is a vital element in your business learning because it challenges, hones, prunes, and affirms your ideas.
If you are not comfortable with a group, the alternative is to have a regular one-on-one meeting with a person you look up to as a mentor.
Read: Is it hard to start an online business?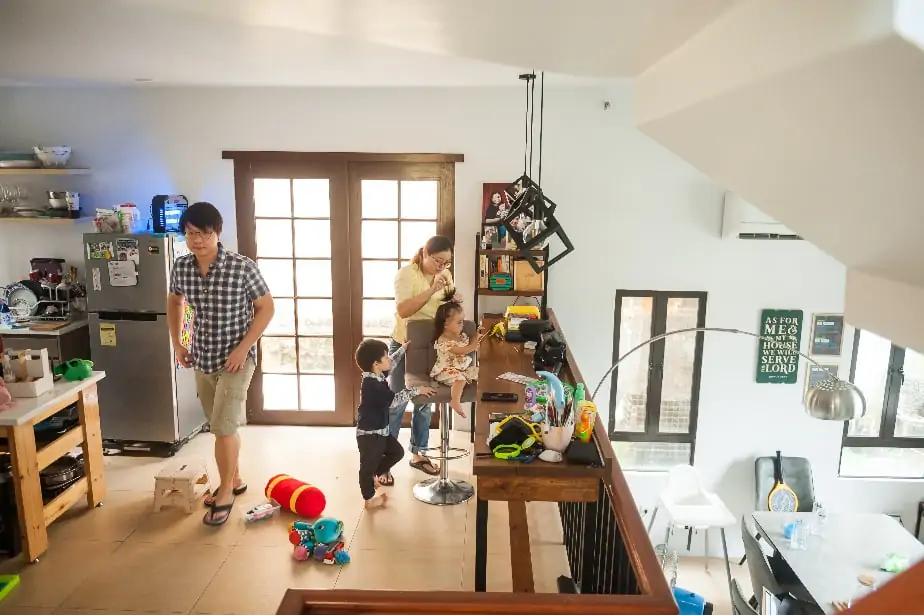 5. Take Risks. Engage In Trial and Error
Failure is a great teacher, and home is the best place to fail because nobody will know about it.
One of the best ways to learn is through experimentation. We take some risks, challenge our hypothesis, and engage in trial and error.
There is a term used for exploiting failure to find success today. It is called "failing forward". The message it implies is the more we fail, the more we learn. And the more we learn, the better our chance of succeeding.
Here is a quick guide on how to engage in effective trial and error:
Step 1: Ideation
What ideas do I have that I want to test today?
Step 2: Application
Apply the idea.
Step 3: Evaluation
What worked, what didn't work?
Step 4: Concentration
Focus and improve the ideas that brought good results.
If you want to dive deeper into this four-step process, follow the link below:
Read: How To Start A Business With No Idea (A 4-Step Guide)
6. Be A Member of Project 24 by Income School
If you intend to go into the content creation business, nothing is at par with Project 24 by Income School (for now).
Project 24 is a program by Income School that teaches people how to create an internet business through blogging and creating YouTube Channels. They believe their lessons, if followed correctly, will enable their members to replace their day job income in 24 months — hence the name, Project 24.
It may sound overpromising, but in fairness to them, they really walk the talk. Some people indeed succeed in 24 months. Nonetheless, there are no guarantees everyone in their program will do the same since success is still dependent on the person's skill and work ethic.
I became a member of Project 24 last July 2021, and I was blown away by their materials. I have read tons of books, enrolled in various courses, and listened to hundreds of podcast episodes, and by far, they are the best when it comes to blogging and YouTube.
Here is what you get when you become a Project 24 member
Access to step-by-step video tutorials. See the list below:
| Blogging | YouTube | Marketing | Monetization | Others |
| --- | --- | --- | --- | --- |
| The Blogging Course (Main Course) | The YouTube System (Main Course) | Personal Branding | The Affiliate Marketing Course | Protecting the Downside |
| Answer Targets for Winning Snippets | YouTube Beginnings | E-A-T for SEO: A step-by-step guide for online credibility | Monetize with Patreon | Pinterest Results — How To Get Traffic |
| No Nonsense SEO | Video Editing with Final Cut Pro | Email Marketing 101 | 10-Day Info Products | The Success Mindset |
| 60 Steps To A Successful Site | Picking Profitable Niches | | Monetize with Ads | Reviewing Your Sites |
| Improve and Speed Up Your Writing | | | Monetize with Lead Generation | Monetize with Info Products |
| The Battleship Method | | | | |
| Web Traffic Snowball | | | | |
| Myth Busting | | | | |
| Hire and Train Writers | | | | |
Free use of premium tools and other resources.
Acabado WordPress Theme
Affiliate Sherpa Plug-in
Search Analysis Tool
Work Energy Book
Affiliate Database
The Project 24 Blogging Podcast
And much more: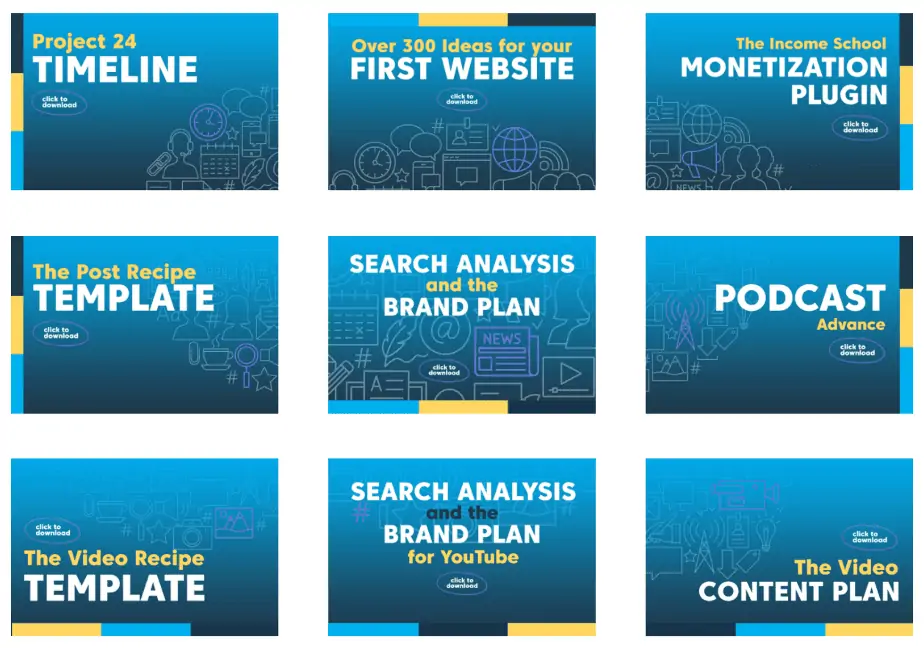 Be part of the Project 24 events and community.
Discourse Community
Mastermind Group
The Content Warrior Challenge
What I love about Project 24 so far
Their step-by-step tutorials have saved me a lot of time and money from trial and errors.
Up-to-date industry news.
No upsells. No gimmicks.
Tells me where to focus my efforts.
Gave me a roadmap to follow — which is a big deal.
Case studies of successful online entrepreneurs.
Transparency, sincerity, and authenticity.
I wish I had learned about Project 24 sooner. I bought a lot of tools I thought would help my online businesses. Turns out, based on the lessons I received from Income School, I do not need any of them to be successful in my venture.
You can sign up for Project 24 here or get free lessons by subscribing to their YouTube channel: Income School.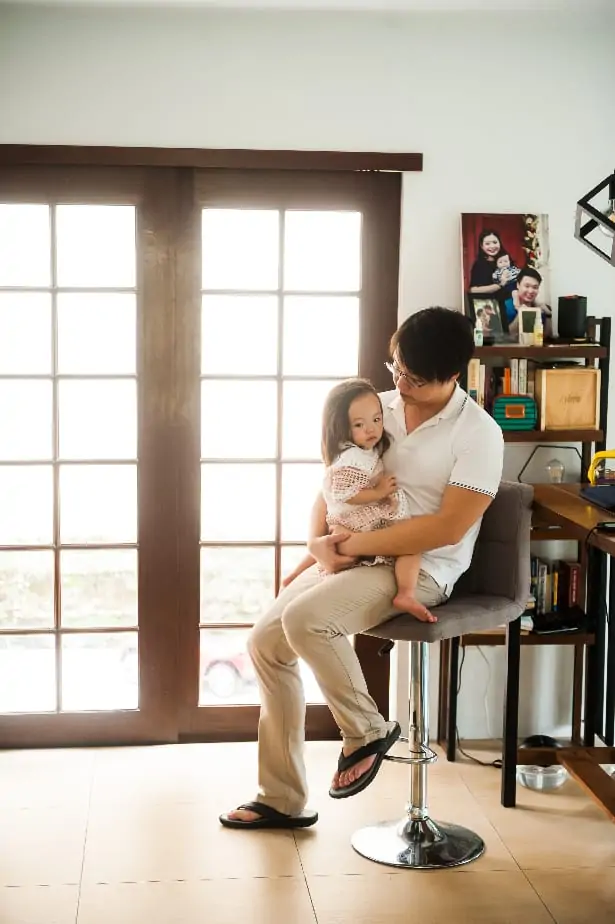 Closing thoughts
We no longer suffer from the lack of information in this day and age. We can all be MBA graduates while sitting comfortably at home. The danger we have to watch out for, however, is the QUALITY of information we are getting.
I take full responsibility for what happened to me, but one of the reasons I got broke is because of a book that taught me how to use debts as a start-up strategy. The lessons worked pretty well at first, but it eventually bit me from behind.
What we should remember as students is that the people behind the books, courses and other materials we consume are also businessmen. Earning profits is their main priority. Most of them couldn't care less whether they are improving people's lives or destroying them as long as they are making a sale.
Be sure to stay vigilant and always use wisdom when applying the lessons you learned.
---
Keep In Touch
---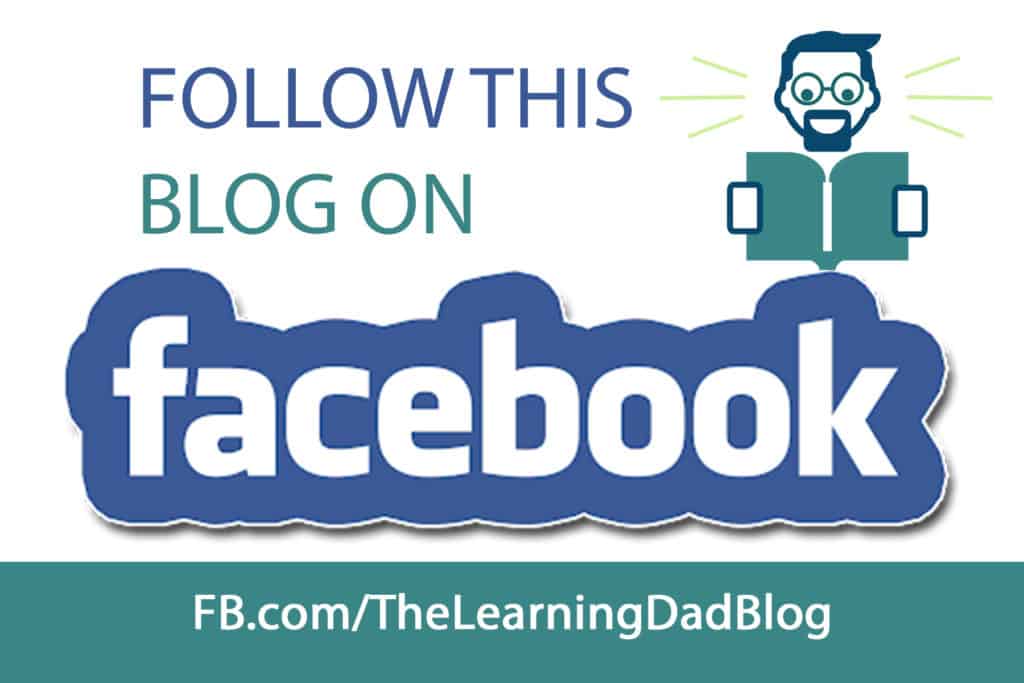 ---
If you liked this post, you might also like this one
---
Thank you for reading!